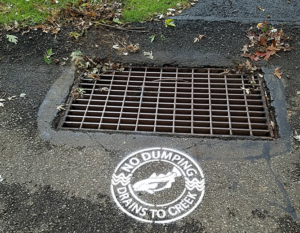 The ocean begins at your front door, even in Pennsylvania.  Keep Pennsylvania Beautiful knows that trash travels – reaching the ocean by way of storm drains and waterways. When it rains, trash on sidewalks and streets accumulates and is swept into storm drains.  Most storm drain systems discharge directly into the nearest creek or river, eventually flowing to the ocean taking all the trash with it. To prevent litter from ending up in our waterways, Keep Pennsylvania Beautiful coordinates PICK UP PENNSYLVANIA, in support of the Ocean Conservancy's International Coastal Cleanup, from September 1st through November 30th .  The International Coastal Cleanup is the world's largest volunteer effort to improve the health of the world's oceans and waterways.  The cleanup event gives citizens around the world the opportunity to clean up their local waterways and to be a part of a larger movement by thinking globally and acting locally.
If you are interested in coordinating a Pick Up Pennsylvania cleanup, please contact Michelle Dunn at 877-772-3673 Ext. 113 or e-mail.  If you are interested in volunteering at an existing cleanup, please check our Calendar of Events for cleanups within Pennsylvania. Any cleanup site is eligible since all waterways flow into our coastal waters.
For more information on the International Coastal Cleanup please visit The Ocean Conservancy website at www.oceanconservancy.org.
Thank you to all who volunteered and supported our past cleanup programs.  Just last year, more than 12,610 volunteers helped Pick Up Pennsylvania-Fall during the 2019 International Coastal Cleanup event. More than 488,100 pounds of trash and debris from Pennsylvania did not end up in coastal waters and the ocean as marine debris. Together we are making cleaner, greener, and more vibrant communities.
The "top five" types of trash found during the 2019 cleanup included:
Cigarette Butts – 14,348
Food Wrappers – 4,016
Plastic Bottles – 4,637
Beverage Cans – 3,418
Tires – 3,499
Click here to see the 2019 Statewide Pick Up Pennsylvania Event Results – coming soon
Click here to see the 2018 Statewide Pick Up Pennsylvania Event Results
Click here to see the 2017 Statewide Pick Up Pennsylvania Event Results
Click here to see the 2016 Statewide Pick Up Pennsylvania Event Results
Storm drain education – storm drains flow directly to nearby rivers and streams, not to wastewater treatment plants.  Your city street is really like waterfront property. Everything that rain washes off of your roof, yard, and driveway goes into the nearby waterway used for swimming, boating, and maybe even drinking.  In addition, anything that is dumped into these drains, such as used motor oil, paint, or excess pesticides, goes directly into the nearest stream.  Stenciling a storm drain will remind everyone – homeowners, business owners, developers, and other citizens – not to dump anything into storm drains so we can protect our water from pollution that can close beaches, cause harmful weed and algae growth, and even kill fish!  For more information, please visit DEP's MCM Public Education website.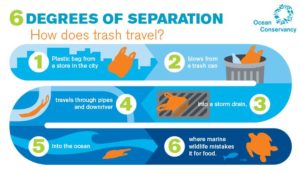 …………….