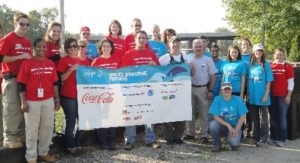 Keep Pennsylvania Beautiful is proud to be the Pennsylvania statewide coordinator for International Coastal Cleanup, the world's largest volunteer effort to improve the health of the world's oceans and local waterways.  The International Coastal Cleanup is one of the largest international volunteer events.  The cleanup gives citizens around the world the opportunity to clean up their local waterways and to be a part of a larger movement.
Over 13,000 volunteers from 39 counties across Pennsylvania canvassed their communities to removed over 523,000 pounds of trash and debris from Pennsylvania's waterways and coastal regions during the 2018 International Coastal Cleanup event.
From September through October, Keep Pennsylvania Beautiful worked together with local groups and organizations to coordinate hundreds of events throughout the state. Volunteers in Pennsylvania documented the trash that was picked up and the "top five" types of trash found during the 2018 cleanup included:
• Cigarette Butts – 19,755
• Food Wrappers – 12,343
• Plastic Bottles – 8,411
• Bottle Caps – 5,435
• Tires – 5,935
International Coastal Cleanup (ICC) Day will be held on Saturday, September 21, 2019, however, ICC events can be held from September through October.
To Coordinate an ICC Event:
If you are interested in coordinating an ICC cleanup, please contact Michelle Dunn at 1-877-772-3673 Ext. 113 or e-mail.  If you are interested in volunteering at a cleanup, please check our Calendar of Events for cleanups within Pennsylvania.
For more information on the ICC, go to the Ocean Conservancy website at www.oceanconservancy.org.  Any cleanup site is eligible since we all live in a watershed and all waterways flow into our coastal waters.
Click here to see the 2018 Statewide ICC Day Event Details
Click here to see the 2017 Statewide ICC Day Event Details
Click here to see the 2016 Statewide ICC Day Event Details
Thank you to all who volunteered and supported our cleanup program. Together we are making a difference in our communities.
..,,,,,,,,,,,,,,,..