The ocean begins at your front door, even in Pennsylvania.  Keep Pennsylvania Beautiful knows that trash travels – reaching the ocean by way of storm drains and waterways. To prevent litter from ending up in our waterways, Keep Pennsylvania Beautiful coordinates PICK UP PENNSYLVANIA, in support of the Ocean Conservancy's International Coastal Cleanup, from September 1st through November 30th .  The International Coastal Cleanup is the world's largest volunteer effort to improve the health of the world's oceans and waterways.  The cleanup event gives citizens around the world the opportunity to clean up their local waterways and to be a part of a larger movement by thinking globally and acting locally.
Registration is now open.
Cleanup tools and resources can be found by clicking here.
If you have any questions regarding Pick Up Pennsylvania supporting the International Coastal Cleanup, about how to coordinate a cleanup, please contact Michelle Dunn at 877-772-3673 Ext. 113 or e-mail.  If you are interested in volunteering at an existing cleanup, please check our Calendar of Events for cleanups within Pennsylvania. Any cleanup site is eligible since all waterways flow into our coastal waters. For more information on the International Coastal Cleanup please visit The Ocean Conservancy website at www.oceanconservancy.org.
PennDOT Supplies & Local Resources
There are many resources available to provide assistance in your local area, such as PennDOT's Adopt-A-Highway coordinators for free gloves, bags and safety vests. Other resources include Recycling Coordinators, Conservation Districts, Penn State Cooperative Extensions, and the Department of Environmental Protection.  To get a list of these resources in your county, click here.
.
When requesting your cleanup supplies from PennDOT, please follow the process outlined below;
Your event I.D. number must be given to the PennDOT Adopt A Highway Coordinator. There will be no exceptions.
PennDOT is presently working remotely, supplies will be ordered by contacting the appropriate PennDOT Adopt A Highway county office by Thursday of each week, with pick up from that office on Friday.
Supplies will be available 'curbside' at a pre-determined location at the PennDOT Adopt A Highway county office.
There will be no direct contact between groups and the PennDOT staff.
The AAH program will provide gloves, vests and bags.  Masks and hand cleaner will not be provided by PennDOT and are the responsibility of you and your volunteers.
Supplies will be placed in a bag or container tagged with the group's name for pick up.
Free or Reduced Cost Disposal is not available for Pick Up Pennsylvania supporting International Coastal Cleanup.
Click here to see the 2019 Statewide Pick Up Pennsylvania Event Results
Click here to see the 2018 Statewide Pick Up Pennsylvania Event Results
Click here to see the 2017 Statewide Pick Up Pennsylvania Event Results
Click here to see the 2016 Statewide Pick Up Pennsylvania Event Results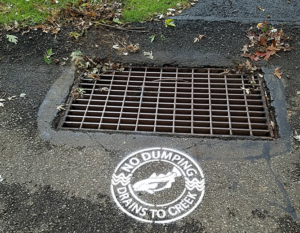 Storm drain education – storm drains flow directly to nearby rivers and streams, not to wastewater treatment plants.  Your city street is really like waterfront property. Everything that rain washes off of your roof, yard, and driveway goes into the nearby waterway used for swimming, boating, and maybe even drinking.  In addition, anything that is dumped into these drains, such as used motor oil, paint, or excess pesticides, goes directly into the nearest stream.  Stenciling a storm drain will remind everyone – homeowners, business owners, developers, and other citizens – not to dump anything into storm drains so we can protect our water from pollution that can close beaches, cause harmful weed and algae growth, and even kill fish!  For more information, please visit DEP's MCM Public Education website.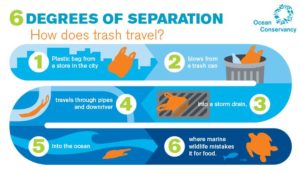 …………….