Waste Reduction and Recycling
---
County Resources
There are many resources available to provide assistance in your local area such as Recycling Coordinators, Conservation Districts, Penn State Cooperative Extensions, PA Department of Environmental Protection, PennDOT, and regional convenience centers. To get a list of these resources in your county, click on your county in the map below:
---
Special Collections
Keep Pennsylvania Beautiful works to increase the availability of convenient, affordable disposal for certain items, such as tires, household hazardous waste, and appliances.
Our affiliates often work with local solid waste and recycling offices to support recycling and collect waste materials that might otherwise be dumped illegally. We help to identify local disposal needs and implement special collections for materials like tires, household hazardous wastes, and electronics.
Dates for specific collection events are listed on the calendar section of our website. If you have questions or would like more information on programs that address problem disposal items in your area, contact a local Keep Pennsylvania Beautiful affiliate or your county solid waste/recycling office.
Keep Pennsylvania Beautiful also strives to improve solid waste management practices – including options for recycling, reducing waste, and re-using materials – both on a local and statewide level. To locate a recycling center or disposal facility near you, call your county recycling coordinator or your local municipality. Many counties maintain up-to-date lists of local recyclers and recycling locations. You can also check Earth 911, a national recycling database, for locations near you.
Keep Pennsylvania Beautiful has a Special Collections Guidelines that you can download. The purpose of these guidelines is to provide individuals and groups with the information to conduct special collection events in their communities, to provide options for proper disposal and/or recycling of hard-to-dispose items, and to help make the environment cleaner, more beautiful, and healthier. These are suggested guidelines and are not necessarily policies of Keep Pennsylvania Beautiful.
---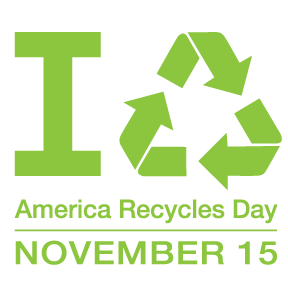 America Recycles Day, November 15
American Recycles Day is more than a celebration, America Recycles Day is the only nationally recognized day dedicated to the promotion of recycling programs in the United States. One day to inform and educate. One day to get our neighbors, friends and community leaders excited about what can be accomplished when we all work together. One day to make recycling bigger and better—365 days a year.
Join us on America Recycles Day!
Take action today! Go to US EPA, America Recycles.
---
Recycle Rally


Looking to increase recycling in your school?
Whether you've been recycling for years or just recently initiated the capability to recycle, Recycle Rally will help boost the excitement and provide an array of tools to make recycling a big deal in your school.
For complete details about Recycle Rally, click here.
For more information about reducing waste and recycling: