Volunteers tackle short-dumping along Tacony Creek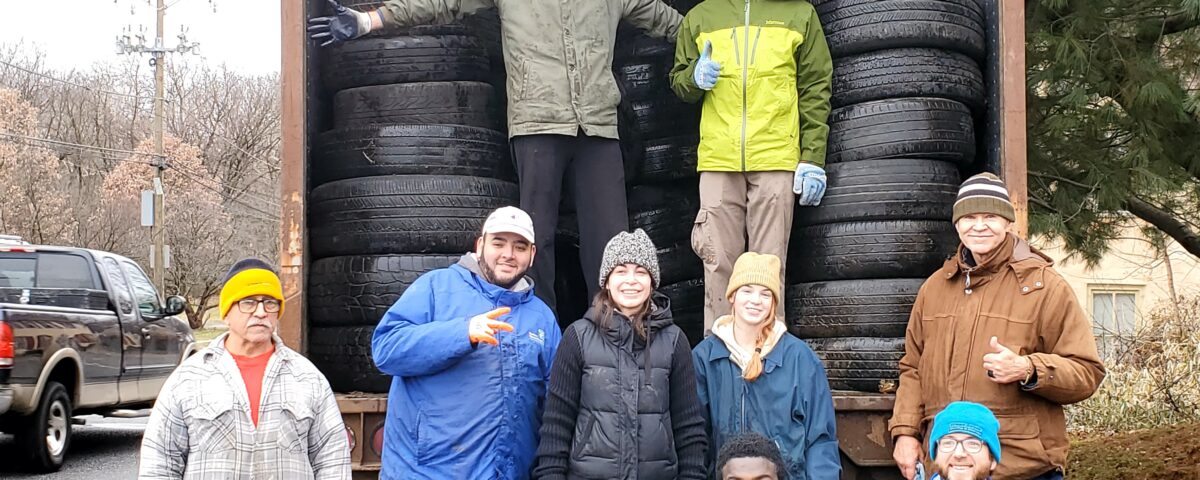 (WHYY) Dozens of volunteers honored Dr. Martin Luther King Jr. Monday by picking up trash and tackling short-dumping at Tacony Creek Park in North Philadelphia's Feltonville neighborhood.
About 400 tires dumped in the park earlier this month were carted away Saturday, but hundreds more littered the landscape along Takony Creek on Monday.
The park serves as a rare greenspace in a neighborhood that struggles with poverty. Advocates say city services for the park are almost nonexistent, illustrating an example of environmental injustice that runs counter to Dr. King's fight for racial and economic justice.
Dozens of volunteers participating in the MLK Day of Service fanned out along the creek's muddy and eroded banks to collect trash in reusable blue bags — finding everything from a deflated soccer ball to a broken dresser, and even a bag of bones.
Workers from the Philadelphia Water Department helped the volunteers load tires onto a waiting truck beneath the Whitaker Avenue bridge.
​​The park is a hot spot for illegal dumping, said Julie Slavet, director of the Tookany/Tacony-Frankford Watershed Partnership, which organized the day's service project.
"We have weekly cleanups here," Slavet said. "The Department of Parks and Recreation won't put trash cans along the trail because they can't afford to service them. It's a matter of resource allocation, which Dr. King addressed."