Keep Pennsylvania Beautiful Updates Popular Litter Education Series: Open Your Eyes to Litter – Book 1 Available Now!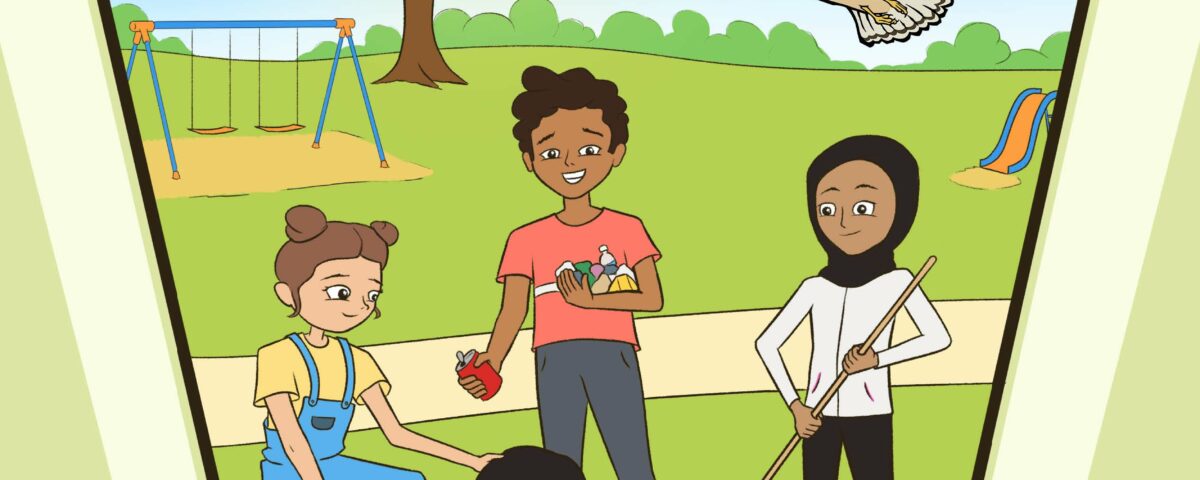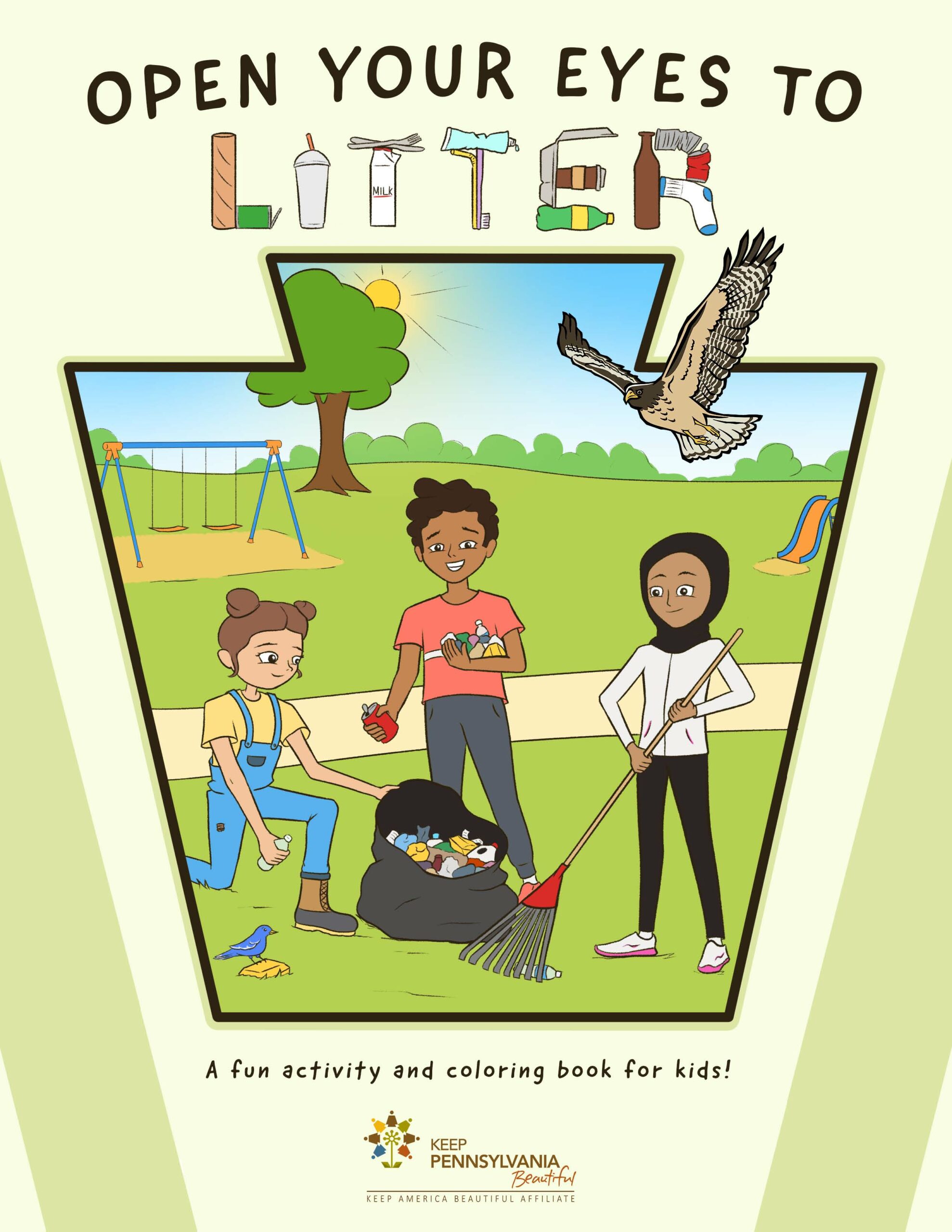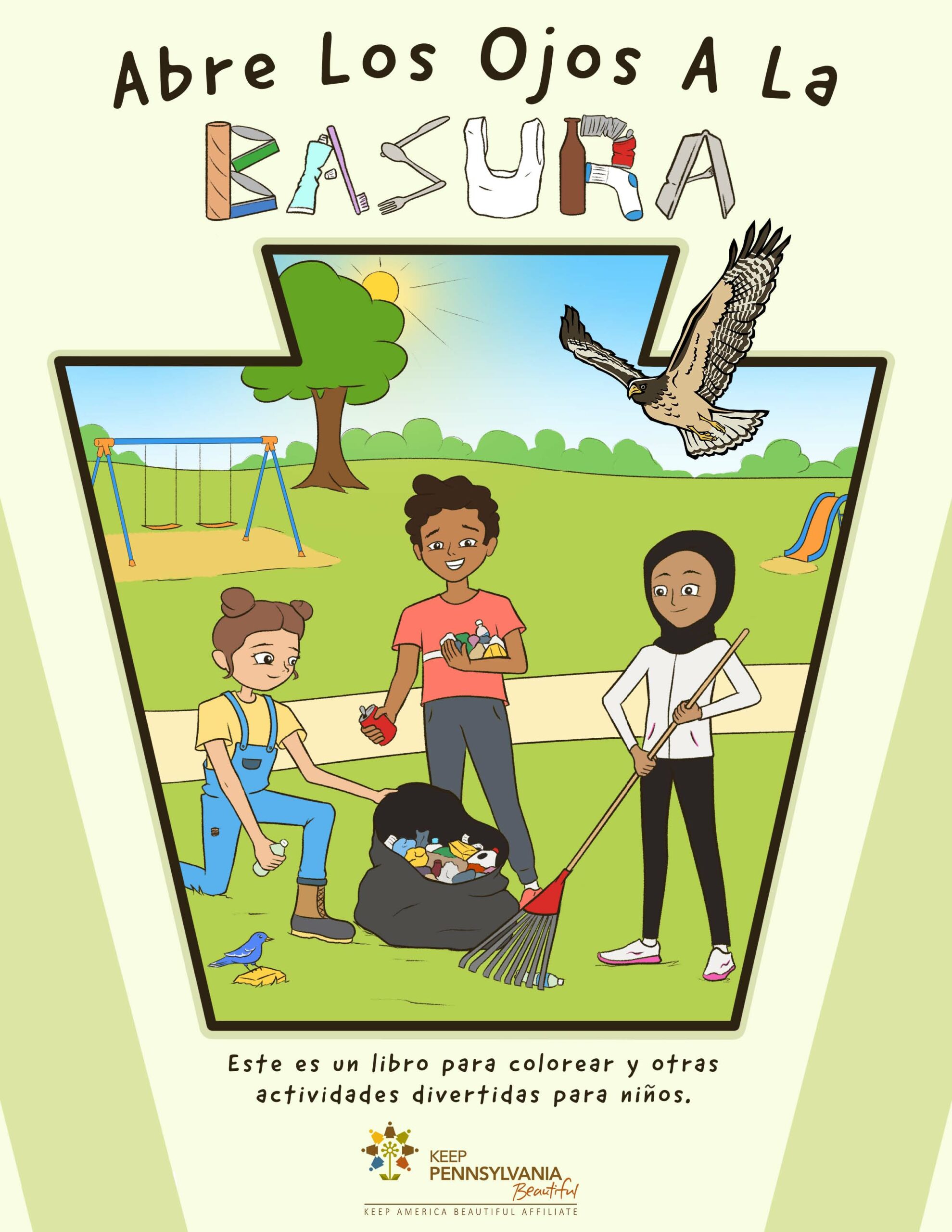 October 23, 2023) Keep Pennsylvania Beautiful's popular Open Your Eyes to Litter series of five educational activity books was created over 20 years ago. Over one million copies of the original series were distributed to schools throughout Pennsylvania. To account for the changing environment, new environmental education standards and new types of litter, Keep Pennsylvania Beautiful is working with illustrator and concept artist, Brady Mock, and Eastern Pennsylvania Coalition for Abandoned Mine Reclamation (EPCAMR) to update the series.
Revisions to the first book in the Open Your Eyes to Litter series is complete! Designed for kids in kindergarten through grade 3, the book is an introduction to what litter is and who it affects and includes thoughtful prompts and fun activities. The book and its teachers guide are available to download on the organization's website: www.keeppabeautiful.org/programs/education/open-your-eyes-to-litter/
Pennsylvania's first-ever Litter Action Plan, announced by the Governor's Office in 2021 called for education and outreach strategies to ensure all Pennsylvanians know littering is unacceptable and there are better ways to manage their waste. KPB's OYEL Series answers that call.
"Keep Pennsylvania Beautiful believes that educating our youth is the key to creating a cleaner and more beautiful tomorrow. We know that littering is a behavior and behaviors can be changed. Engaging youth in protecting the environment creates a direct impact on changing behaviors and attitudes and can influence their friends and families. Our educational materials encourage students to take an active role in protecting and improving our environment through recycling, litter awareness, and community stewardship. We are delighted to work with EPCAMR and Brady Mock on the revisions and are grateful for the team that created the original series. We're trying to stay as true to that as possible," said Shannon Reiter, President of Keep Pennsylvania Beautiful.
The books provide hands-on learning and are appropriate for grades K through Six. Each book revision will address PA Department of Education Academic Standards for Environment, Ecology and Geography and has a supplementary Teacher's Guide that suggests multi-disciplined educational activities that expands on the information, ideas, and activities that are included in each book. The book series includes:
Revised Open Your Eyes to Litter, Volume 1 – Explains what litter is and who is affected by it. Also available in Spanish.
Open Your Eyes to Litter, Our Littered Past – Illustrates litter and waste issues from prehistoric times to the present and explains how each culture managed or didn't manage their waste. Also available in Spanish.
Open Your Eyes to Litter, Think Before You Toss – Explains ways trash can be properly disposed, what happens to trash once it is thrown away, and why you should reduce, reuse and recycle.
Open Your Eyes to Litter, In a Watershed – Illustrates how litter and illegal dumping affect watersheds and the animals and people who live, work, and play there.
Open Your Eyes to Litter, Keeping Our Greenways Clean – Explains how litter affects our greenways, how greenways function, and encourages both awareness and stewardship of greenways. This book illustrates the major greenways in Pennsylvania and shows how they connect cities and communities.
The books and teacher's guides are available to download at this link: https://www.keeppabeautiful.org/prevent-it/education-resources/. Look for updates to the rest of the series throughout 2024.
"Our Open Your Eyes to Litter books are a perfect complement to an in-class or virtual lesson about litter or recycling. Students can follow up with a litter pick up of their school grounds or neighborhood. Our books can help kids learn the huge impact litter has on our communities and the natural world and invites them to think about what they can do about it," said Shannon Reiter, President of Keep Pennsylvania Beautiful.
###
About Keep Pennsylvania Beautiful

Keep Pennsylvania Beautiful's mission is empowering Pennsylvanians to keep our communities clean and beautiful. Since 1990, Keep Pennsylvania Beautiful and its volunteers have removed over 155 million pounds of litter from Pennsylvania's roadways, greenways, parks, forests, and waterways. To learn more about Keep Pennsylvania Beautiful, visit www.keeppabeautiful.org.