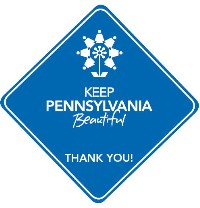 Since 1990, Keep Pennsylvania Beautiful has offered an adoption program as a way for caring individuals and groups to "adopt" local areas they care about and help to keep them clean. Our adoption program compliments PennDOT's Adopt-A-Highway program and is an option for:
Municipal Roads
Parks
Neighborhood blocks
Greenways
Waterways
Trails
School grounds through our Litter Free School Zone program
Keep Pennsylvania Beautiful will provide one sign per adoption. Additional signs can be purchased by the adopting group, if desired. Adoption signs help to recognize the volunteer effort behind an adoption and build awareness among visitors and residents that someone cares enough about removing trash and litter to "adopt" an area.
What will I need to do? Click here to see our Adoption Program Guidelines.
Click here to Register your new Adoption.
For more information or to initiate an adoption, contact Stephanie Larson toll free at 877-772-3673 x 104.
Please visit your county's or township's website for scheduled road work before selecting a date for your road cleanup.
---
For information about adopting a state maintained road through PennDOT's Adopt-A-Highway Program, contact your local Adopt-A-Highway Coordinator by clicking on your county to see their contact information.
---
Keep Pennsylvania Beautiful thanks over 300 adopters and thousands of volunteers for their commitment as well as municipalities across the state for their generous support of our adoption program.  You are the people who make our program possible!
    


   .

Myerstown Baptist Church

………………………………..

Team CMMD6


 ……..

Lebanon County

…………………………………………

Chester County
     Champion Christian School
Fayette County
Penbrook Revitalization 
Dauphin County