Keep Pennsylvania Beautiful believes that by engaging volunteers, we extend the reach of our educational efforts and multiply the impact of our actions.
Keep Pennsylvania Beautiful's "Affiliate Volunteers of the Year Program" is a recognition program for KPB and local KAB Affiliates. Through this statewide program, each affiliate can honor an outstanding volunteer.
Keep Pennsylvania Beautiful's 2016 Affiliate Volunteers of the Year!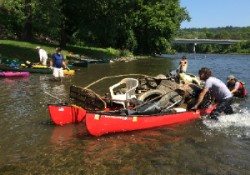 Keep Huntingdon County Beautiful – Rothrock OutfittersRothrock Outfitters have been a dedicated volunteer group for Keep Huntingdon County cleanup events, especially the annual Juniata River Cleanup, for the last four years. Several employees attend each year to serve as hardworking volunteers as well as water-safety scouts. Additionally, the company donates canoes, kayaks, and trailers to help haul trash out of the river. Each volunteer is reliable, motivated, and innovative, often forming groups to tackle the largest trash items, such as washers and dryers. They make the tough job of cleaning up easier by bringing a light-hearted spirit to events. Rothrock Outfitters also helps identify polluted sections of waterways throughout the year which helps the affiliate choose future cleanup sites. Keep Huntingdon County Beautiful is incredibly grateful to have such a fantastic partner!
---
Keep Lancaster County Beautiful – Dr. David Eichler and DEEP
Donegal High School's Dr. David Eichler and students of the Donegal Experiential Education Program (DEEP), a program that teaches students about the importance of protecting and conserving the environment, faithfully maintain a 2-mile section of PA Route 772 in East Donegal Township and have removed 740 pounds of trash and over 1,000 pounds of recyclables from the Little Chiques Creek during the International Coastal Cleanup.
The group also installed, monitors and maintains Mallard and Wood Duck boxes in the wetlands of East Donegal Township's Riverfront Park.  During the summer months, DEEP cleans trash and dumped materials from the Susquehanna River bank and the Northwest River Trail.
---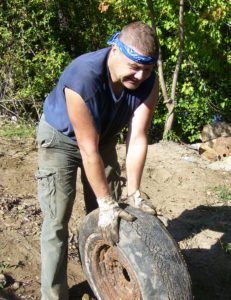 PA CleanWays of Mifflin County – Tim Zimmerman
Tim Zimmerman has helped on the last several river cleanups as well as many road and illegal dump cleanups. He frequently uses his personal vehicle and trailer to haul tires and trash to the local landfill, thereby saving precious resources. "We could not do what we do without willing help from our volunteers like Tim," stated Pam Sechrist, PA CleanWays of Mifflin County Coordinator.