Keep Tri-County Beautiful began as a PA CleanWays chapter in Lawrence and Butler counties. Lawrence County formed its chapter in 1993, while Butler County formed a chapter in 2002. The two groups decided to become an affiliate of Keep Pennsylvania Beautiful in 2005, and thus formed PA CleanWays of Butler-Lawrence Counties, becoming their own 501(c)3 non-profit organization. They then added Mercer County shortly thereafter in 2011.  The organization is supported by the Lawrence County Recycling Office.
---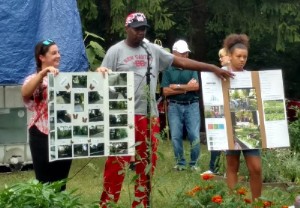 Congratulations to Tri-County CleanWays' 2019 Volunteer of the Year, Kenneth Rice, Sr.!
Kenneth Rice, Sr., first volunteered with Tri-County CleanWays for a cleanup of the Lower East Side Community in April 2019. Since then, he and Tri-County CleanWays have worked together, with neighbors, to transform previously abandoned lots into a community garden that include an edible rain garden and compost area. The Rice family purchased the lots a few years ago with the idea of feeding families in need for free. In 2019, the crops have helped feed over 50 families. Ken spends a significant amount of time researching ideas on maintaining and improving the gardens and has plans to offer composting seminars and sessions on how to prepare some of the vegetables grown. The family has already purchased an additional abandoned lot in a different section of New Castle with the goal of creating another active community garden project to empower those residents.
---
Contact Information
Tri-County CleanWays
Jerry Zona, Affiliate Coordinator
430 Court Street
New Castle, PA 16103
Phone Number: 724-658-6925