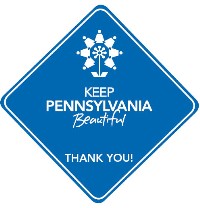 Since 1990, Keep Pennsylvania Beautiful has offered an adoption program as a way for caring individuals and groups to "adopt" local areas they care about and help to keep them clean. Our adoption program compliments PennDOT's Adopt-A-Highway program and is an option for most types of local areas, such as municipal roads, communities, parks, neighborhood blocks, greenways, waterways, trails, and school grounds through our Litter Free School Zone program.
Adopting an area is a proven and effective way to address persistent dumping and littering and helps keep these areas trash-free. All it takes is a concerned person or group of volunteers and a commitment to be part of the solution in keeping Pennsylvania clean.

Because of increased material costs, Keep Pennsylvania Beautiful will provide one sign per adoption. Additional signs can be purchased by the adopting group, if desired. Adoption signs help to recognize the volunteer effort behind an adoption and build awareness among visitors and residents that someone cares enough about removing trash and litter to "adopt" an area.
In 2012, Keep Pennsylvania Beautiful, Allegheny CleanWays, and Allegheny County partnered to offer those who live, work and play in the region an opportunity to adopt Allegheny County-owned roads and bridges to organize roadside clean-up projects and to encourage County citizens to be more deeply involved in the livability of their own communities. All adoptions will be administered by Keep Pennsylvania Beautiful and will follow existing guidelines.  Technical support and cleanup supplies are available from Allegheny CleanWays, as requested and road signs and installation is provided by Allegheny County. For more information on our partnership, please click here.  Scroll to the bottom of the page for roads and bridges eligible for adoption in Allegheny County.
This strategic partnership provides a working prototype for other local government agencies to emulate across Pennsylvania. For more information or to initiate an adoption, contact Stephanie Larson toll free at 877-772-3673 x 104.
Please visit your county's or township's website for scheduled road work before selecting a date for your road cleanup.
---
To learn how your school can adopt its campus, please look into the Litter Free School Zone Program.
---
For information about adopting a state maintained road through PennDOT's Adopt-A-Highway Program, contact your local Adopt-A-Highway Coordinator.
---
Keep Pennsylvania Beautiful boasts over 300 adoptions of roadways, greenways, and communities across the state of Pennsylvania. Hundreds of concerned citizens routinely give of their time to help make Pennsylvania a cleaner, safer, and more beautiful place to live and visit. Keep Pennsylvania Beautiful thanks them for their commitment as well as municipalities across the state for their generous support of our adoption program.  You are the people who make our program possible!