Keep Perry County Beautiful, formerly PA CleanWays of Perry County, was formed in 2009 with support from the Perry County Conservation District and the Perry County Commissioner's Office.
Keep Perry County Beautiful participates in an annual friendly rivalry called the "Tire Wars" with three other KPB affiliates; Keep Huntingdon County Beautiful, Keep Juniata County Beautiful and PA CleanWays of Mifflin County. The Golden Rim Award is given to the affiliate who collects the most tires at a specific collection event, helping to remove unsightly tires and mosquito breeding grounds from the landscape.
Due to novel coronavirus (Covid-19), two of the four participating affiliates, Keep Huntingdon County Beautiful and Keep Juniata County Beautiful, postponed their tire collections. PA CleanWays of Mifflin County collected 545 tires. Keep Perry County Beautiful collected 366 tires collected.
"We all tried our best and endured through the challenges to host our events, regardless if it was a competition this year or not. Our residents count on us to provide an avenue to properly dispose of unwanted tires so all of the landscapes in our communities stay beautiful, even with the struggles that COVID-19 brought forth this year. We are very happy that we were able to see them through and our residents who participated were very grateful as well. We'd like to thank everyone who supports our programs, whether they are volunteers, participants, or partners!"
Event coordinators followed all local, state and federal guidelines to reduce the spread of novel coronavirus (COVID-19), including having participants pre-register. We are hoping that in 2021, circumstances allow all of us to resume convenient, affordable disposal options for tires and large bulky items to our residents.

---
Congratulations to Keep Perry County Beautiful's 2019 Volunteer of the Year, Rachael Filip!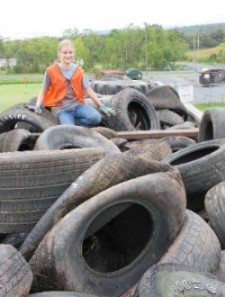 Rachael Filip began volunteering with Keep Perry County Beautiful in June of 2018 when she helped residents unload their old electronics from their vehicles at a special collection held by the affiliate. Since then she has assisted at all affiliate events including the Juniata River Cleanups and the 2019 Tire War. Rachael is also the vice president of the Newport High School Environmental Club. "Rachael has a noticeable commitment and compassion for the environment and succeeds in showing her enthusiasm for volunteer work with our Perry County community at large," said Kristie Smith, Perry County Watershed Specialist and Keep Perry County Beautiful Coordinator.