Rock L. Butler Students Place In Litter Hawk Youth Award Program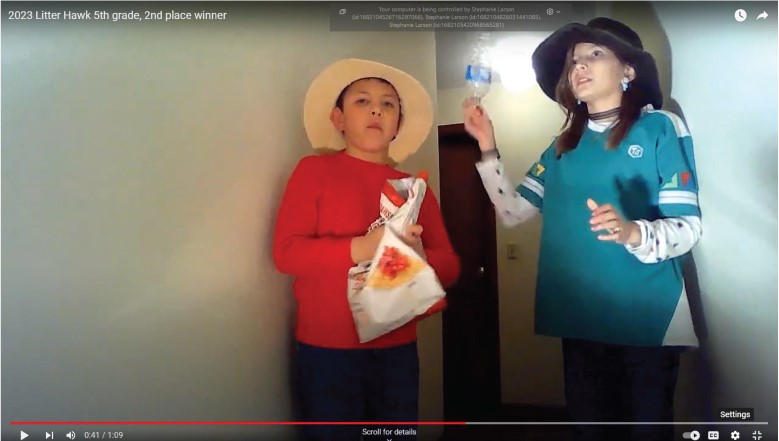 (Wellsboro Gazette) Keep Pennsylvania Beautiful Announces Litter Hawk Youth Award Program Winners
Izabella DiAmbrosio, a fifth grader at Rock L. Butler Middle School and Penelope Pell, a sixth grader at Rock L. Butler were two of the runners-up.
Izabella produced a video and Penelope wrote an essay.
The program provides a way for students in K through 6 to express their concerns about litter through art, words or video. In response to Pennsylvania's new anti-littering education campaign, PA Fights Dirty: Every Litter Bit Matters, the theme was Show Us How Every Litter Bit Matters to You.
Judges were excited to see so many thoughtful submissions illustrating positive change towards reducing the amount of trash found in our parks and school grounds and along our roadways.
Two entries were awarded in each grade level. First place winners received a $50 gift card and first runners-up received a $25 gift card. For their stories, visit Keep Pennsylvania Beautiful's Facebook page.
First place winners were Elizabeth Kalista, Kindergarten, Holy Trinity Catholic School, Blair County; Nadia Weaver, Grade 1, Reidenbaugh Elementary School, Lancaster County; Reese Guarnero, Grade 2, Nitrauer Elementary School, Lancaster County; Josiah Haley, Grade 3, homeschool, Clinton County; Jordyn Sylvester, Grade 4, Smithfield Elementary School, Monroe County; Abigail Foltz, Grade 5, South Lebanon Elementary School, Lebanon County and Rishi Saravanan, Saathvik Nag Chakilam, Nihal Chamarthi and Dhyan Vignesh, Grade 6, Pickering Valley Elementary School, Chester County.
Winning entries will be displayed in the East Wing Rotunda of the PA state capitol building in Harrisburg from May 4 through May 26.
"Keep Pennsylvania Beautiful wants to thank all the students who participated in our Litter Hawk Youth Award program this year. It's humbling to see and hear what Pennsylvania youth think about keeping our neighborhoods clean and beautiful. Engaging youth in protecting the environment creates a direct impact on changing behaviors and attitudes as kids have a knack for influencing their friends and families," said Shannon Reiter, president of Keep Pennsylvania Beautiful.