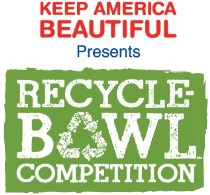 What is Recycle-Bowl?
Recycle-Bowl is a free, friendly competition and benchmarking tool for K-12 school recycling programs to promote waste reduction activities.  School recycling programs across the nation compete in a race to collect the most recyclables.
Whether a school has an extensive recycling program or one classroom is just launching basic recycling collections, Recycle-Bowl is an excellent way for teachers, student green teams and facility managers to engage their school community in a fun and friendly way.
Recycle-Bowl Goals:
Hold a fair and friendly recycling competition.

Inspire students, teachers, and administrators to recycle more.

Catalyze bigger, better  recycling programs

Provide "teaching moments" with students about the benefits of recycling.

Divert material from disposal into recycling systems.
For complete details about Recycle Bowl click here.