Pennsylvania Teachers and Students Invited to Participate in Keep Pennsylvania Beautiful's Litter Free School Zone Program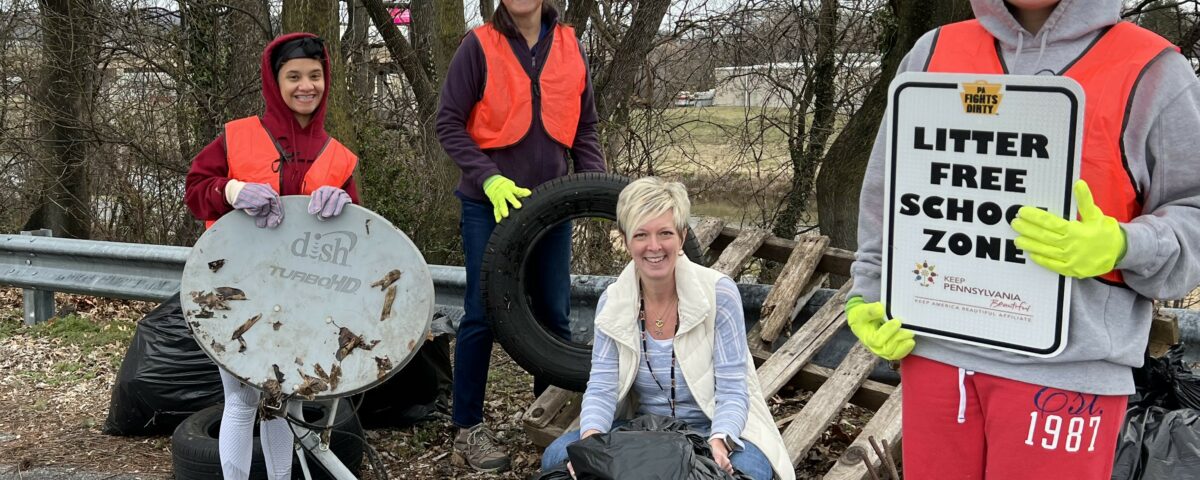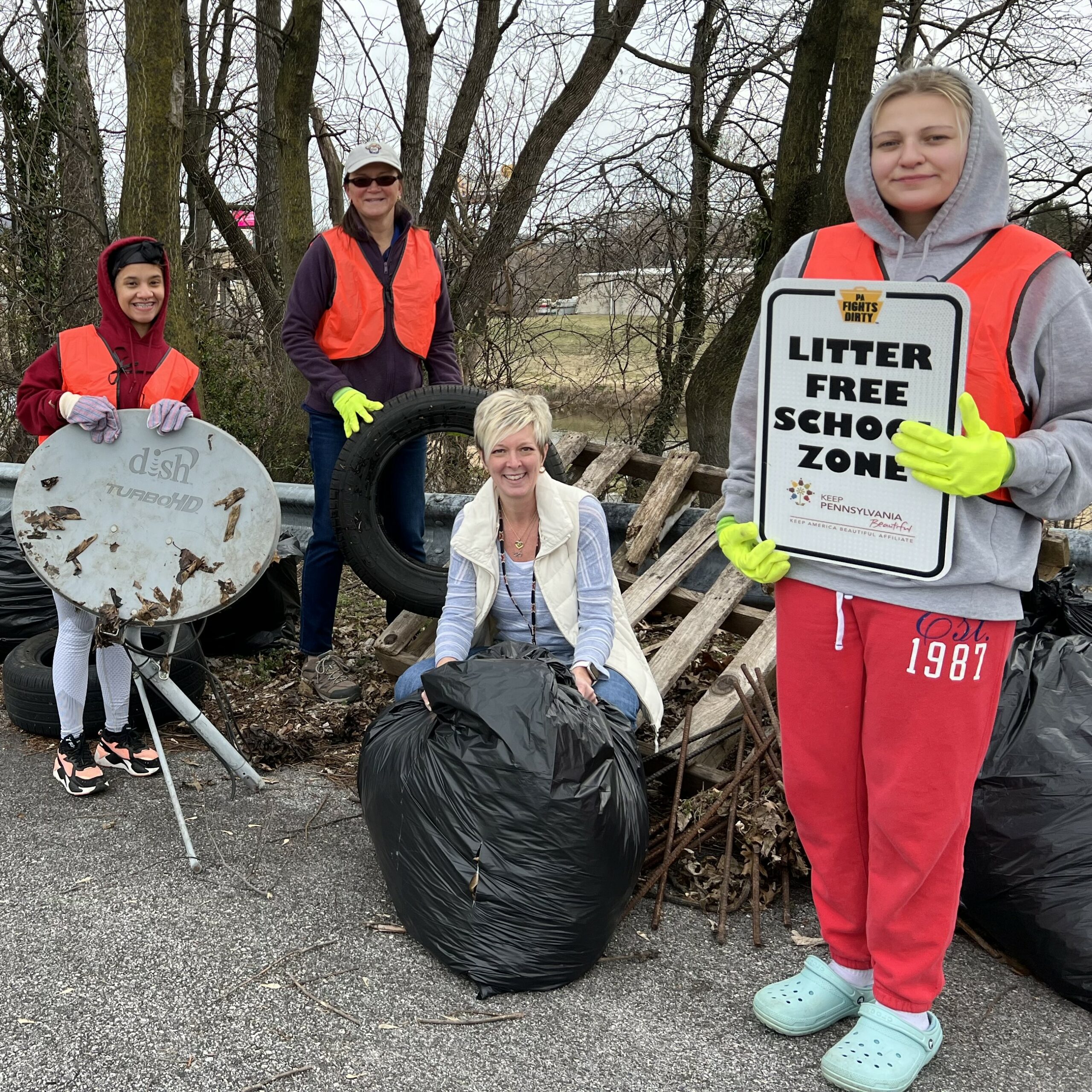 (March 7, 2023) Schools in Pennsylvania can keep their school grounds litter free with Keep Pennsylvania Beautiful's Litter Free School Zone Program. The program encourages hands-on activities to teach environmental stewardship and responsibility and can be combined with a lesson on how litter affects animals, people, water quality and economics.
A student at York Adams Academy in North York, Pennsylvania is using the program as her senior project. Emily Rinker coordinated her peers to clean up a stream that runs into the river by the York Rail Trail. Part of Emily's project plan is to pass the baton onto the next student who will run the program and cleanup next year, ensuring long-term stewardship of the school grounds and surrounding area.
The students collected 8 bags of trash, 2 tires and 3 bulky items during the cleanup held on March 3. "I didn't realize how much people litter and how much trash there is to pick up. I think it's important to keep the earth clean," said Rinker.
Mrs. Melanie Meakin, Administrative Assistant to the Director and Staff Coordinator helped Emily with the coordination and planning of her project and will serve as the Litter Free School Zone advisor. "Community Service is something I am very passionate about. I am excited to participate in this program and clean up organized by Emily. Together, Emily and other York Adams Academy students can make a positive impact on our community," said Meakin.
The responsibilities of being a Litter Free School Zone include planning two improvement projects per school year and can include litter cleanups and beautification events, like creating and caring for pollinator and rain gardens. Results are reported to Keep Pennsylvania Beautiful and are added to statewide community improvement totals, making it an opportunity to be a part of something bigger. Keep Pennsylvania Beautiful provides a Litter Free School Zone sign for each participating school.
"Campus litter sweeps are a great way for students to make a positive impact on the local environment and community. Picking up litter makes an immediate and noticeable difference. It connects us to each other and makes us feel part of something bigger. Cleanups can also be combined with other environmental lessons," said Shannon Reiter, President of Keep Pennsylvania Beautiful. "We are so grateful for students like Emily who have the compassion to see something that needs to be done and the drive to do something about it."
There are currently over 90 schools participating in the program. All schools are welcome to participate – elementary school, middle school, high school, public or private. Litter Free School Zone Program events are eligible for free cleanup supplies. Schools interested in becoming a Litter Free School Zone should visit keeppabeautiful.org/programs/educational-resources/ or contact Stephanie Larson at slarson@keeppabeautiful.org or 877-772-3673.
###
About Keep Pennsylvania Beautiful
Keep Pennsylvania Beautiful's vision is a clean and beautiful Pennsylvania. Since 1990, Keep Pennsylvania Beautiful has worked with hundreds of thousands of volunteers across the state to pick up nearly 155 million pounds of trash from Pennsylvania's roadways, waterways, greenways, vacant lots, forestlands and other community spaces. Keep Pennsylvania Beautiful's core programming focuses on litter and illegal dump prevention, cleanup, community greening, and proper waste handling and sustainable practices. Keep Pennsylvania Beautiful works with many partnering organizations on the state and grassroots level to accomplish our goal of a clean and beautiful Pennsylvania. Keep Pennsylvania Beautiful is the state affiliate of Keep America Beautiful, Inc., the nation's largest volunteer-based community action and education organization. To learn more about Keep Pennsylvania Beautiful, visit www.keeppabeautiful.org.