Keep Pennsylvania Beautiful  worked in conjunction with The Children's Museum of Pittsburgh to build an outdoor classroom on the museum property which will be available to museum patrons and the Pittsburgh Public School System as part of their Head Start early education programming.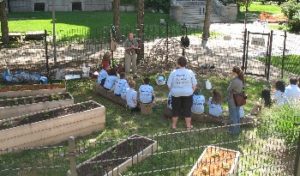 A previously empty, outdoor space came to life on the Northside on the morning of May 17, 2012  at the grand opening of Children's Museum of Pittsburgh's outdoor classroom.  Featuring a woven Basket Hut, earth mounds, fruit trees,  a rain barrel, raised planting beds, musical instruments and educational signage this new space,  with a focus on sourcing sustainable materials a  Basket Hut made from invasive Norway Maple tree cuttings harvested from Frick Park, raised beds and decking made from wood sourced locally, and plantings focused on native and edible species.  On May 17, 2012, artist Indigo Raffel joined youth volunteers and representatives from the Children's Museum of Pittsburgh, Keep Pennsylvania Beautiful and Waste Management, Inc. to put the finishing touches on the woven Basket Hut and adorn it with positive wishes for the earth.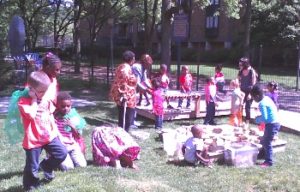 This new outdoor classroom space is funded by Keep Pennsylvania Beautiful, Keep America Beautiful and Waste Management, Inc. and will be used daily by the Pittsburgh Public School's Headstart Pre-K classes housed in the Museum, as well as for a variety of Museum programs.