Litter Capture Devices Piloted in Presque Isle Bay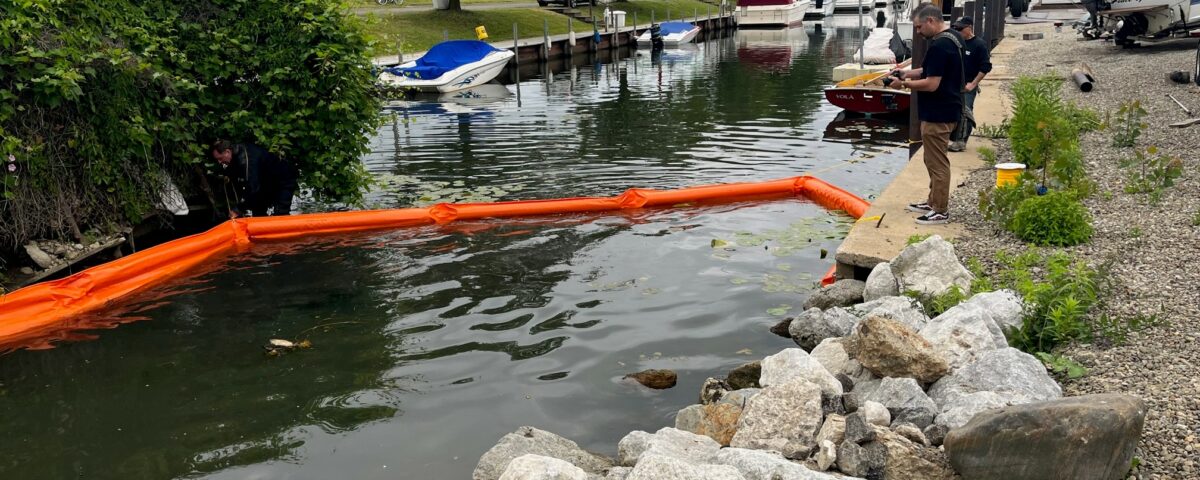 (August 24, 2023)
Keep Pennsylvania Beautiful Collaborates with Ocean Conservancy to keep Presque Isle Bay and Lake Erie clean and beautiful
With funding from the Ocean Conservancy, Keep Pennsylvania Beautiful collaborated with numerous individuals, organizations and businesses who make their home in Lake Erie, to pilot devices made to capture debris that makes its way into the water. The devices, known as litter control booms, are designed to limit the spread of trash and debris and corral floating litter so it can be collected and removed from the waterway. The installation and maintenance of the booms has been an ongoing collaboration between Keep Pennsylvania Beautiful, Lakeshore Towing Services, Inc., Erie-Western Pennsylvania Port Authority, Regional Science Consortium at TREC, Gannon University, City of Erie, Keep Erie County Beautiful, Erie County Department of Planning, and Erie County Conservation District. The partnership brings together the collective knowledge of a wide variety of stakeholders invested in the health and water quality of Presque Isle Bay and Lake Erie.
As a pilot, two booms were installed at points of stormwater discharge in Presque Isle Bay on June 23, 2023. Eric Guerrien, the local business owner of Lakeshore Towing Services, Inc., offered to have the devices installed on his property for this pilot project. He also donated the time and equipment needed for the job.
"Having a business so close to the water, I see the effects that trash has on the local wildlife and tourism. Cleaning up litter is a never ending job and this pilot project might be a little piece of the litter puzzle," said Guerrien.
Interns from the Regional Science Consortium (RSC) at TREC, have been monitoring the sites collecting the trash that accumulates in the booms and evaluating data that determines the types and sources of trash, the effectiveness of the device, and will eventually help determine how to reduce the amount of trash entering the waterway. Data collected includes date, time, current and previous weather parameters, counts for various categories of litter, weight of materials removed, and water quality analyses including bacteria and presence of petroleum products such as gas and oil. The RSC is educating locals and visitors about the pilot.
"Marine debris is a serious issue, not only locally, but globally. The data from this project will highlight the most common litter that enters our waterways and impacts our drinking water and sport fishery," said Jeanette Schnars, Ph.D., Executive Director, Regional Science Consortium.
Not only is Lake Erie a popular vacation destination, according to the Great Lakes Guide, it is also the most biologically diverse of all the Great Lakes due to its warm, shallow waters. The Lake Erie Watershed provides drinking water for 11 million people and supports a variety of industries and is most susceptible to agricultural practices. It is also home to one of the world's largest and most valuable freshwater commercial and sport fisheries.
"Trash adversely affects water quality and also harms wildlife and the local economy and tourism. No one wants to recreate on a polluted waterway. I think the best part about this project is the local interest and enthusiasm for finding solutions for litter control. There has been so much genuine concern and cooperation between stakeholders from the inception to the installation, maintenance, and education that has made this project possible. It has truly been a community effort of partnerships," said Heidi Pedicone, Program Manager, Keep Pennsylvania Beautiful.
The litter control booms will be in place until there is a risk of ice when it will be removed and stored until re-installation the following spring.
Keep Pennsylvania Beautiful will report results to the Ocean Conservancy to analyze litter trends and sources.
###
Keep Pennsylvania Beautiful' s vision is a clean and beautiful Pennsylvania. Since 1990, Keep Pennsylvania Beautiful has worked with hundreds of thousands of volunteers across the state to pick up nearly 155 million pounds of trash from Pennsylvania's roadways, waterways, greenways, vacant lots, forestlands and other community spaces. Keep Pennsylvania Beautiful's core programming focuses on litter and illegal dump prevention, cleanup, community greening, and proper waste handling and sustainable practices. Keep Pennsylvania Beautiful works with many partnering organizations on the state and grassroots level to accomplish our goal of a clean and beautiful Pennsylvania. Keep Pennsylvania Beautiful is the state affiliate of Keep America Beautiful, Inc., the nation's largest volunteer-based community action and education organization. To learn more about Keep Pennsylvania Beautiful, visit www.keeppabeautiful.org.