What To Do If You Witness Someone Littering Or Dumping Trash
If you witness someone littering or dumping, get details and descriptions, and turn them in to an enforcement agency as soon as possible. NEVER approach someone who you think is littering or dumping!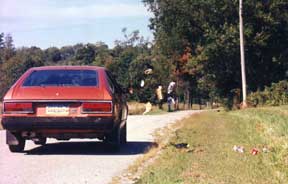 Information that will be helpful to have ready when you call:
License plate number and description of vehicle involved (such as make, model, year, condition of vehicle)
Number of persons involved, with descriptions
Date and time of incident
Traveling direction if you have witnessed a littering incident
Type of litter thrown from vehicle
Location and/or directions to site of an illegal dumping problem
Ownership of the site, and whether public or private, if known
Your name and telephone number
If a vehicle is involved, the owner of the vehicle is responsible for trash dropped, thrown, or deposited from the vehicle, regardless of who committed the offense. The vehicle license number may be all that you need to report, however, the more information you provide to an agent the stronger the case will be.
---
What To Do If You Find A Dump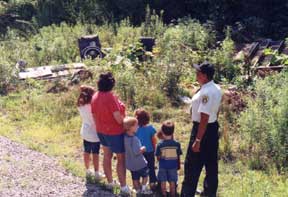 If you find a dump, you should report the location to an enforcement agency as soon as possible. If you know that the property is publicly owned or you know the property owner and have permission to enter, you may assess the trash. Do not disturb or move any of the trash. Also, be aware that picking through trash poses some health and safety risks. If you are uncertain as to who owns the property, simply report the location.
It's always better if an enforcement agent finds evidence undisturbed. This prevents any question of whether there was tampering of evidence. The agent is able to testify that the evidence was part of the dump, and you will probably not be called on to testify. Your timely report, along with clear evidence, could help identify the person(s) responsible for the dump. The longer you wait, the more that the chances for successful prosecution decrease, and the size of the dump will grow.
In addition to reporting the dump to an enforcement agency, please complete our Online Illegal Dumpsite Reporting Form. Documenting illegal dumpsites throughout Pennsylvania is a critical step in educating people about illegal dumping on our lands and waters and ultimately in helping to restore the natural beauty of our state.
Report older dumps, too. You may be the first to report it. Some municipalities are in the process of identifying illegal dumps, and your information could add to their data. If the agency is aware of it, your call may increase surveillance of the site. If you want to do more than report the problem, let the agency know that you would like to be involved in a cleanup if one is to be organized. They may know of such an effort or of a group that may be interested.
View contact information for enforcement agencies.
Please note: Keep Pennsylvania Beautiful is not an enforcement agency.