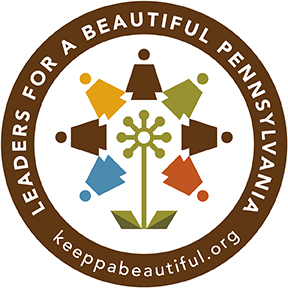 Take the Pledge to be a Leader
Leaders for a Beautiful Pennsylvania showcases our legislators and other public officials that are "leading the way" in efforts to keep their communities beautiful.
This initiative encourages Leaders to participate or coordinate a local improvement project. An example of an improvement project can be:
Cleanup – through our Pick Up Pennsylvania Spring or Fall programs, Adoption program where you adopt a road, waterway, etc.
Beautification – working with your local community or park to plant trees or other landscaping or painting projects
Recycling – assisting with a local special recycling event, sharing information on recycling and more
Clean and beautiful communities are the foundation for an attractive, yet healthy community with a prospering economy. Since 1990 – 2,593,268 volunteers have:
picked up more than 148 million pounds of trash,
recycled more than 12 million pounds of electronics, and
properly disposed of more than 1 million tires.
Please join Keep Pennsylvania Beautiful and "Take the Pledge" to be a Leader for a Beautiful Pennsylvania. Keep Pennsylvania Beautiful provides program tools and resources to help you get started in organizing or participating in a successful local improvement project.
.
Take the Leaders' Pledge:

Join Keep Pennsylvania Beautiful in making all of our neighborhoods cleaner, safer, and more beautiful.
BY SIGNING THIS PLEDGE, I COMMIT TO:
Organize, participate in and or promote cleanups, recycling, beautification and other community improvement events.
Educate friends and neighbors about the importance of clean and beautiful communities.
Encourage other Legislators and Public Officials to join me in keeping Pennsylvania beautiful!


.
People Who Have Taken the Leaders' Pledge:
Ms. Tanya Chaney – Amazing Zen-Chaney's Natural, LLC
Ms. Jennifer Daywalt – President of Council for the Borough of Modena
The Honorable Tony DeLuca – Pennsylvania State Representative
Mr. George Hendricks – Change Agent for Trivum Packaging
The Honorable Craig Staats – Pennsylvania State Representative
Mr. Andy Tubbs – VP of External & Customer Affairs, Columbia Gas of Pennsylvania
Mrs. Joyce Walker – Deputy Director, America250PA
Ms. Cheryl Wimer – Roadside Specialist, PennDOT
.
Community Pride Award:

Public Officials that have taken the Pledge can nominate a volunteer, organization or business for the Community Pride Award which recognizes outstanding commitment to litter control, recycling, beautification and general environmental stewardship. Award applications will be accepted on a rolling basis.
Community Pride Award Application
To see Community Pride Award Recipients, click here.
Questions regarding the Community Pride Award can contact Stephanie Larson at 877.772.3673 ext. 104 or slarson@keeppabeautiful.org.
Program Tools and Resources:
Publications– help educate your friends and neighbors by sharing valuable resources, the recent Litter Study, Municipal Cost Study and other materials.
Sharing – login to your Facebook or other social media accounts and share our posts.
Cleanup Resources – can be found on our Clean It page!
.
.
.
.
.
.
.
.
.
.
.
.