In 2007, Keep Pennsylvania Beautiful initiated an award's program to honor volunteers who have demonstrated a sustained commitment and exceptional contributions on behalf of Keep Pennsylvania Beautiful to keep our communities clean and beautiful.

---
2016 Jim Clark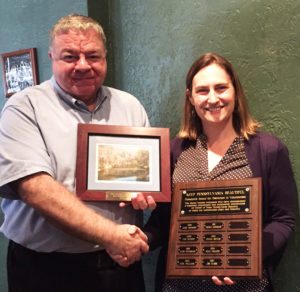 Jim was instrumental in founding PA CleanWays of McKean County in 2001. He has since served as secretary and leader of the group and worked to make PA CleanWays of McKean County a household name. Jim has worked tirelessly to coordinate illegal dump cleanups and special collection events for McKean County residents.
---
Previous Year's Awardees:
2014 Dale Frazier
Dale was the Founder of Greenbelt Overhaul Alliance of Levittown (G.O.A.L), was instrumental in coordinating all aspects of illegal dump cleanups, litter cleanups, plantings, invasive species removal and educational initiatives in and around the lower Bucks County region.
2012 Celina Seftas
As the Affiliate Coordinator of Keep Huntingdon County Beautiful, Celina was honored because she organized dozens of cleanups and collection events, and participated in the Tire War, leading her affiliate to win this event 5 times. She has done more than we can list.
2011 Nicole Chandler
As the leader of Keep Royal Gardens Beautiful, Nicole has led the cleanup and beautification of Morris Park in West Philadelphia over many years. Under Nicole's leadership, Keep Royal Gardens Beautiful has an extensive network of volunteers and partnering organizations.
2010 – Carl Williams
A founding father of PA CleanWays of Fayette County, Carl was recognized for giving generously of his time, strength, and knowledge to make his community a safer, more beautiful place for all.
2009 – Glenn Witherspoon
A priceless partner and friend to Keep Pennsylvania Beautiful since 1997, Glenn's spirit will live on through the Litter IQ and Recycling IQ boards that he helped create and that have educated over 100,000 people.
2008 – Pam Sechrist
Pam became an integral member of PA CleanWays of Mifflin County in 2004 and was recognized for her tireless efforts to coordinate illegal dump cleanups, special collections, and education programs within Mifflin County.
2007 – Gene Wolbert
A volunteer with PA CleanWays of Fayette County since 1994, Gene was recognized for volunteering hundreds of hours to help plan, implement, and participate in cleanups.