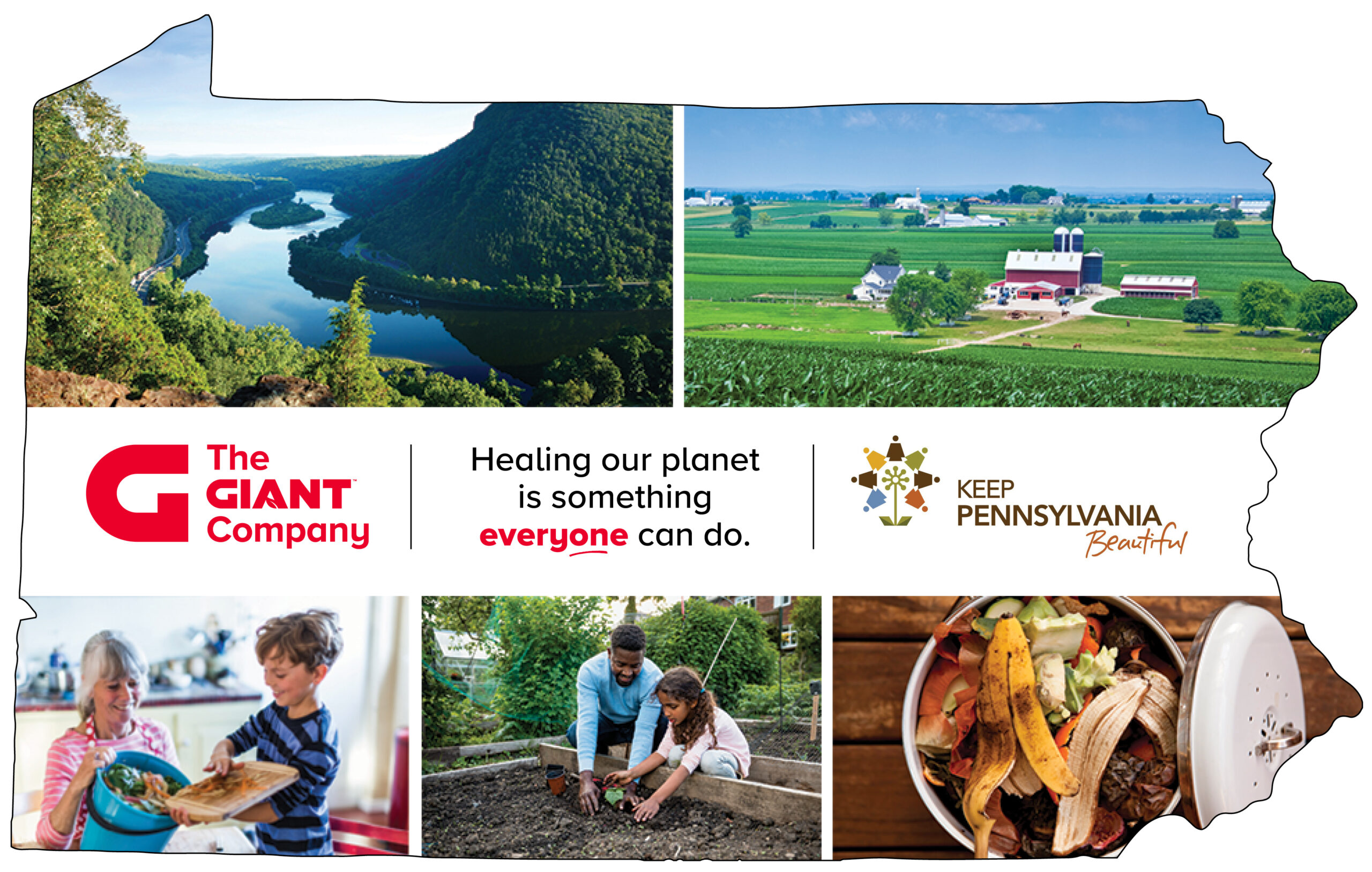 The 2023 Healing the Planet Grant Program, funded by The GIANT Company, is a competitive grant for tax-exempt organizations that aims to address food waste prevention, reduction, and recovery recovery across The GIANT Company's operating area in the states of Pennsylvania, Maryland, West Virginia, and Virginia.
The Review and Selection Committees' decisions are final. Due to the sheer volume of applications, we cannot give feedback on individual applications and scores. Thank you for all you do to keep your community clean and beautiful.

The 2023 application is open March 1 to April 13, 2023 at 4:00 PM EST. Click here to start your online application
Resources:
For grant questions, please contact Heidi Pedicone, Director of Programs for Keep Pennsylvania Beautiful at hpedicone@keeppabeautiful.org or 877-772-3673 x 109.
2023 HEALING THE PLANET APPLICATION
MEDIA TOOLKIT
The 2023 Media Toolkit is coming soon!
GRANT MANAGEMENT/ACKNOWLEDGEMENT
All organizations awarded will be asked to sign an agreement with Keep Pennsylvania Beautiful, outlining requirements and expectations. The grant agreement will outline all project requirements that will be submitted at the end of the grant period in an online format. Photos will also be required. Keep Pennsylvania Beautiful will provide each awardee with a sample release template and requirements for appropriate and agreed upon recognition of The GIANT Company and Keep Pennsylvania Beautiful. Recognition could include local press releases, inclusion in educational materials, and or signage. All items are to be approved by Keep Pennsylvania Beautiful and The GIANT Company prior to release of such materials.
GRANT TIMELINE
Grant will open on March 1, 2023. Online submissions only. No applications will be accepted by post or email.
All grant applications and supplemental information will be accepted until April 13, 2023 4:00 PM EST. No exceptions.
Grant winners will be announced in June 2023. All applicants will be informed of their application outcome at this time. All decisions of the grant committee are final.
Projects must be completed by June 30, 2024, one year after award.
A completed final report including photos must be submitted by July 14, 2024.
This is a competitive grant program with intent to provide support for diverse community improvement projects across The Giant Company's operating area in the states of Pennsylvania, Maryland, West Virginia and Virginia. View our
community projects photo album
and the
2021 Healing the Planet Final Report
for inspiration!
GRANT/PROJECT ELIGIBILITY
Applicants can be any tax-exempt organization including nonprofit organizations, conservation districts, schools, churches, local and county governments, etc. EIN must be provided.
Eligible projects must be located in areas where The GIANT Company operates stores within Pennsylvania, Maryland, Virginia or West Virginia. Applicants can reside outside of the target locations but the project MUST be in the below locations. NO EXCEPTIONS WILL BE MADE.

Maryland: Alleghany, Carroll, Cecil and Washington counties.

Pennsylvania: Adams, Berks, Blair, Bucks, Carbon, Centre, Chester, Clearfield, Columbia, Cumberland, Dauphin, Delaware, Fayette, Franklin, Fulton, Huntingdon, Indiana, Lackawanna, Lancaster, Lebanon, Lehigh, Luzerne, Lycoming, Mifflin, Monroe, Montgomery, Montour, Northampton, Perry, Philadelphia, Schuylkill, Snyder, Union and York counties.

Virginia: Clarke, Culpeper, Frederick and Warren counties. Also the cities of Harrisonburg, Staunton, Waynesboro and Winchester.

West Virginia: Berkeley, Jefferson and Mineral counties.
Eligible projects must be shovel ready with any required permits already secured. Eligible projects: Project must address food waste prevention, reduction and or recovery. Eligible projects include food waste reduction and diversion, community composting, increase access to compost for agricultural producers, educational programs regarding food waste prevention, reduction and recovery, divert food waste from landfills, etc. Community gardens are eligible for funding but must have a food waste prevention, reduction and or recovery component, i.e. education.
FINAL PROJECT REPORT FORM
Check back soon!