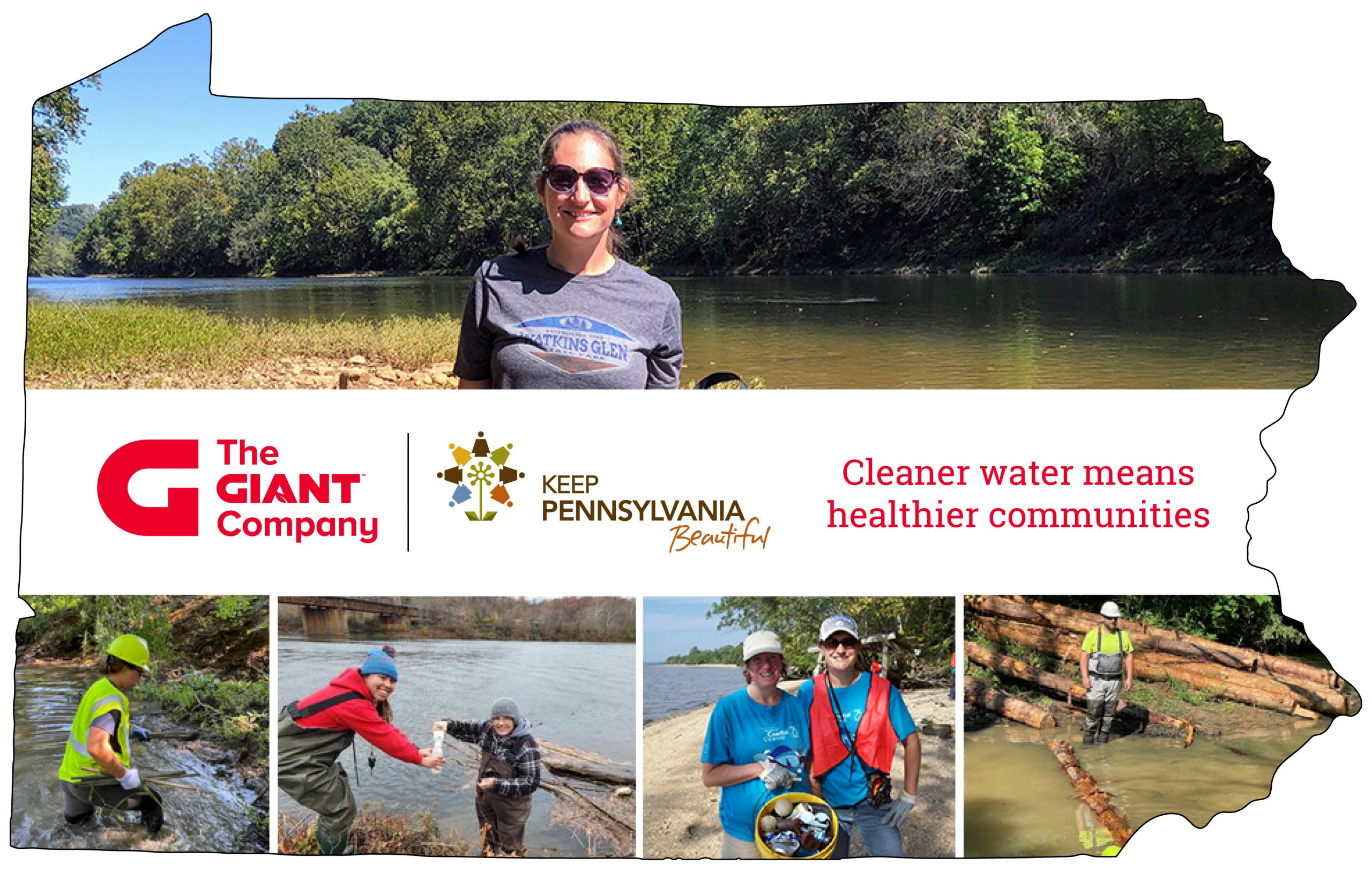 The 2022 Healing the Planet Grant Program, funded by The GIANT Company, is a competitive grant for tax-exempt organizations that aims to improve the health and quality of waterways which will help protect water resources and improve the overall health of communities.
The Review and Selection Committees' decisions are final. Due to the sheer volume of applications, we cannot give feedback on individual applications and scores. Thank you for all you do to keep your community clean and beautiful.
The 2022 applications is now closed. Grant winners will be announced in June 2022. All applicants will be informed of their application outcome at this time.
Download a preview the application (.pdf). However, all submissions must be made using the online form.
View Frequently Asked Questions about the grant (.pdf).
Download the grant program guidelines here (.pdf).
For grant questions, please contact Heidi Pedicone, Director of Programs for Keep Pennsylvania Beautiful at hpedicone@keeppabeautiful.org or 877-772-3673 x 109.
FINAL PROJECT REPORT FORM
2022 HEALING THE PLANET AWARDEES
Maryland
The High 5 Initiative, Inc. - The High 5 Initiative's Cecil Cares Cleanup
Town of Mount Airy, Maryland - Storm water pond fountains
Pennsylvania
9th Street Youth & Community Center - Watershed Cleanup, Trail and Tree Maintenance
Abington Area Joint Recreation Board - Lake Wilson at Hillside Park
Blue Mountain Eagle Climbing Club and Wilderness Park Association - Wetland streambank restoration Rentschler Arboretum
Centre Region Parks and Recreation Authority - Mascolo Pollinator Garden
City of Harrisburg- Department of Parks, Recreation and Facilities - Italian Lake Rain Garden
East Bradford Township - Plum Run Watershed Educational Interpretation
Friends of Schuylkill River Park - Schuylkill River Park Arboretum
Friends Of Silver Lake Nature Center - Eradication of Invasives
Girl Scouts in the Heart of Pennsylvania - Girl Scout Tree Promise Initiative – Year 2
Glen Foerd Conservation Corporation - Project Support for Glen Foerd's Riverways Ambassadors Program
Harrisburg Area YMCA - Camp Curtin YMCA Branch Pollinator Garden Phase I
Indiana Borough - Indiana County Stormwater Education Partnership – Rain Barrel Workshop project
Kennett Area Park Authority - Ash Grove Forestry Management Adjacent to Riparian Buffer and Stream Restoration
Lancaster Conservancy - Climbers Run Nature Center Invasive Species Education and Management
Lehman Sanctuary - Storm Water Management & Education
Londonderry Township - Londonderry Workshop Series
Lower Susquehanna Riverkeeper Association - Water Watchdogs Monitoring Program
Lundale Farm Inc. - Safer Forestry Herbicides to Protect Groundwater
Michaux Forest Association - Renaturalization of the Mountain Creek Buffer at Pine Grove Furnace State Park
Mountain Watershed Association - Laurel Highlands Water Quality Monitoring & Restoration
North American Land Trust - Brinton Run Preserve Community Tree Planting
Northcentral Pennsylvania Conservancy - Streambank Stabilization on Spring Creek at State Game Lands 252
PA Parks and Forest Foundation, Friends of White Clay Creek Preserve - Two Bridge Replacements used for Hiking and Equestrian in White Clay Creek Preserve
Pennsylvania Division of the Izaak Walton League of America - Monongahela River Picture Story Map
Salisbury Township - Salisbury Township Park Riparian Buffer
Schuylkill River Development Corporation - Grays Ferry Crescent Tree Planting
The Academy of Natural Sciences of Drexel University - Monitoring in the Delaware River Watershed
The Da Vinci Discovery Center of Science and Technology, Inc. - Da Vinci Science Center Pond
The Salvation Army - Enhancing Environmental Literacy through Rain Gardens and Outdoor Education
Trout Unlimited 108 Doc Fritchey - Quittapahilla Creek Watershed Water-Quality Monitoring Project
Upper Darby Township - Gillespie Park Riparian Buffer Restoration Project
Warrington Township - Warrington Township-Stream Health Project
West Reading Borough - Wyomissing Creek Rehabilitation
Watershed Alliance of Adams County - Watershed Alliance of Adams County Water-Monitoring Project
Watershed Coalition of the Lehigh Valley - Master Watershed Steward Volunteer Driven Clean Water Projects
Western Pennsylvania Conservancy - Innovative Techniques for Community Monitoring of Vernal Pools
Wildlife Leadership Academy - Wildlife Leadership Academy - Bass / Brookies Field Schools
Willistown Conservation Trust - Darby Creek Community Science Monitoring Program
York Academy Regional Charter School Upper School - A Week in the Creek: Improving the Stream Health of the Codorus Creek
Virginia
The Shenandoah Valley Black Heritage Program - At The Cost Of A Community: Using Education to Reverse the Social Systems that Feed Environmental Racism
Virginia Clean Cities - Keep Harrisonburg Beautiful Watershed Project
Winchester-Frederick County Convention and Visitors Bureau - Abram's Pond Hillside Naturalization
West Virginia
Blue Ridge Watershed Coalition - Blue Ridge Mountain water quality monitoring
GRANT ACKNOWLEDGEMENT/MEDIA TOOLKIT - TEMPLATES FOR PROMOTING YOUR PROJECT
We encourage you to promote this award. To promote your award and project locally, a sample press release template, social media posts, and logos can be found below. Please share any related press about this project, again, it helps us tell your story!
In all public acknowledgements, Keep Pennsylvania Beautiful requires that you use the following tag line: This project was funded by Keep Pennsylvania Beautiful's Healing the Planet Grant Program with support from The GIANT Company. Educational signage requires the use of the tag line or both logos below.
GRANT TIMELINE
Grant will open on April 1, 2022. Online submissions only. No applications will be accepted by post or email.
All grant applications and supplemental information will be accepted until April 28, 2022 4:00 PM EST. No exceptions.
Grant winners will be announced in June 2022. All applicants will be informed of their application outcome at this time. All decisions of the grant committee are final.
Projects must be completed by June 30, 2023, one year after award.
A completed final report including photos must be submitted by July 14, 2023.
This is a competitive grant program with intent to provide support for diverse community improvement projects across The Giant Company's operating area in the states of Pennsylvania, Maryland, West Virginia and Virginia.
Visit our community projects photo album for inspiration!
GRANT/PROJECT ELIGIBILITY
Applicants can be any tax-exempt organization including nonprofit organizations, conservation districts, schools, churches, local and county governments, etc. EIN must be provided.
Eligible projects must be located in areas where The GIANT Company operates stores within Pennsylvania, Maryland, Virginia or West Virginia. Applicants can reside outside of the target locations but the project MUST be in the below locations. NO EXCEPTIONS WILL BE MADE.

Maryland: Alleghany, Carroll, Cecil and Washington counties.

Pennsylvania: Adams, Berks, Blair, Bucks, Carbon, Centre, Chester, Clearfield, Columbia, Cumberland, Dauphin, Delaware, Fayette, Franklin, Fulton, Huntingdon, Indiana, Lackawanna, Lancaster, Lebanon, Lehigh, Luzerne, Lycoming, Mifflin, Monroe, Montgomery, Montour, Northampton, Perry, Philadelphia, Schuylkill, Snyder, Union and York counties.

Virginia: Clarke, Culpeper, Frederick and Warren counties. Also the cities of Harrisonburg, Staunton, Waynesboro and Winchester.

West Virginia: Berkeley, Jefferson and Mineral counties.
Eligible projects must be shovel ready with any required permits already secured. Eligible projects include: stream health and water quality monitoring activities, marine debris removal, storm water/MS4 education initiatives, lake/pond ecology, watershed education activities, watershed landscape measures, rain gardens, streambank restoration, erosion control, AMD remediation, rain barrels, pollution abatement and source water protection.
Eligible expenses, include but are not limited to: direct project costs, water sampling equipment, marine debris removal equipment, storm water marking items, pollution abatement technology, invasive removal equipment, signage, education expenses associated with water conservation, stream cleanup waste/tire disposal, work gloves, safety vests and trash bags. A maximum of 10% staff time can be included.
Non-eligible projects include, but are not limited to: flood mitigation efforts, projects requiring heavy equipment, stream permits or water recreation activities (kayaking, fishing, waterway access, etc.).
Non-eligible expenses include, but are not limited to: indirect or direct overhead costs, general office supplies, scholarships, financial awards, fundraising events, permitting costs or conferences and seminars.
Non-eligible project expenses include, but are not limited to: kayaks, canoes, boats, fishing equipment and materials to build access for water recreational purposes, such as lumber or concrete for docks.