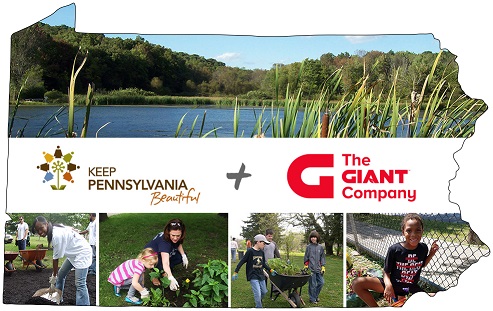 The 2021 Healing the Planet Grant Program, funded by The GIANT Company, aims to build environmental stewardship by connecting people and families to community green spaces, improve community green spaces, support environmental restoration efforts, and support community gardens.
Thank you for your interest in the Healing the Planet Grant Program, sponsored by The GIANT Company. The application process was extremely competitive. We are grateful to have received more than 230 applications for such thoughtful and impactful projects and programs across Pennsylvania and surrounding communities in Maryland, Virginia and West Virginia. The Review and Selection Committees' decisions are final. Due to the sheer volume of applications, we cannot give feedback on individual applications and scores. Thank you for all you do to keep your community clean and beautiful.
Learn about the impressive projects that the 2021 Healing the Planet Grant Awardees undertook to improve the environment, communities, and lives of residents in MD, PA, VA, WV. 2021 Final Grant Report now available to download (.pdf).
View Frequently Asked Questions about the grant.
You can download a PDF of the grant program guidelines here.
For grant questions, please contact Heidi Pedicone, Director of Programs for Keep Pennsylvania Beautiful at hpedicone@keeppabeautiful.org or 877-772-3673 x 109.
2021 HEALING THE PLANET AWARDEES
Maryland
City of Taneytown - Memorial Park Waste & Recycling Management
Downtown Sykesville Connection, Inc. - Little Sykes Railway Park Improvement and Beautification Project
Washington County Historical Society - Miller House Garden Renovation
Pennsylvania
Benton Middle-Senior High School--Science Department - Garden & Greenhouse Grant
Blair County Conservation District - NatureWorksPark Education and Outreach
Borough of Quakertown - Quakertown Borough Community Garden
Capital Area Greenbelt Association - Greenbelt Communication and Education
Chester Ridley Crum Watersheds Association - Monthly Streams Cleanup at Barry Bridge Park in Chester
City of Lancaster - Lancaster Compost Co-op Expansion
Clean Air Council - Cobbs Creek Park and Trail Greening and Beautification
East Goshen Township Parks and Recreation - Bees are Buzzin'...Education Program
Friends of Black Moshannon State Park chapter of the Pennsylvania Parks and Forests Foundation - Enhancing Recreation and Environmental Education Opportunities at Black Moshannon State Park
Friends of Codorus State Park (FOCSP) - Landis Woods Education Area Barn Restoration and Teaching Station Construction
Girl Scouts in the Heart of Pennsylvania - Girl Scout Tree Promise Initiative - Year 1
Heritage Conservancy - Creating Community Connections with Croydon Woods Nature Preserve
Horn Farm Center for Agricultural Education - Regenerative Farmscape East - 6 Acre Riparian Buffer
Indiana County Conservation District - Conservation Education and Community Greenspace
Lehman Township - Pollinator Gardens
Middle Smithfield Township - Echo Lake Park Rehabilitation and Beautification
Our Lady of Hope Parish - Nurturing the Seed of Hope
Our Town Foundation - State Street Square Development
Oxford Area Foundation - Glenroy Preserve Pollinator Fields
Pennsylvania Parks and Forests Foundation - Improving State Park Greenspaces and Restoring the Environment with Trees
Schuylkill Center for Environmental Education - Schuylkill Center Environmental Education Outdoor Classroom Sites
Shippensburg University of Pennsylvania - ShipComposts Program Support
SILO Works - Growing Together Community Garden
Snyder County - Faylor Lake Shale Pit Road Park Development
Springfield Township - Mermaid Park Stream & Habitat
The Academy of Natural Sciences of Drexel University - Community Gardening in Philadelphia
The Pennsylvania State University - Master Watershed Stewards Protecting Water, Greening Communities
The Perennial Project - Hope Park Green Outdoor Movie Screen & Community Art Banners
Warrington Township - Habitat Improvements and Public Education at the Weisel Preserve
Washingtonville Borough - Washingtonville Park Improvement Project
Weisenberg Township - Bachelor Road Park Tree Planting
Wildlands Conservancy, Inc. - Beautification of Northampton County Parks
Yeadon Borough - Yeadon Community Park - Love, Health, Healing, and Wellness Initiative
York Fresh Food Farms - Infrastructure Project to Sustain the Church and Court Community Garden
Virginia
Blue Ridge Wildlife Center - Native Woodland Garden
County of Culpeper - The Carver Center Outdoor Classroom and Education and Demonstration Garden
Farmington Elementary School - Growing Growers at Farmington Elementary
Northern Shenandoah Valley Master Gardener Association - Keep Winchester and Frederick County Beautiful - A Horticulture Education Project
West Virginia
Mineral County Parks and Recreation - Larenim Playground
GRANT MANAGEMENT/ACKNOWLEDGEMENT
All organizations awarded will be asked to sign an agreement with Keep Pennsylvania Beautiful, outlining requirements and expectations. The grant agreement will outline all project requirements that will be submitted at the end of the grant period in an online format. Photos will also be required. Keep Pennsylvania Beautiful will provide each awardee with a sample release template and requirements for appropriate and agreed upon recognition of The GIANT Company and Keep Pennsylvania Beautiful. Recognition could include local press releases, inclusion in educational materials, and or signage. All items are to be approved by Keep Pennsylvania Beautiful and The GIANT Company prior to release of such materials.
GRANT TIMELINE
Grant will open on June 1, 2021. Online submissions only. No applications will be accepted by post or email.
All grant applications and supplemental information will be accepted until 5:00pm EST on June 30, 2021. No exceptions.
Grant winners will be announced no later than August 20, 2021. All applicants will be informed of their application outcome at this time. All decisions of the grant committee are final.
Projects must be completed by July 31, 2022, one year after award.
A completed final report including photos must be submitted by August 31, 2022.
This is a competitive grant program with intent to provide support for diverse community improvement projects across The Giant Company's operating area in the states of Pennsylvania, Maryland, West Virginia and Virginia.
Visit our community projects photo album for inspiration!
GRANT/PROJECT ELIGIBILITY
Applicants can be any tax-exempt organization including nonprofit organizations, conservation districts, schools, churches, local and county governments, etc. EIN must be provided.
Based on GIANT store locations, applications must be for projects in the following states and counties. Applicants can reside outside of the target locations but the project MUST be in the below locations. NO EXCEPTIONS WILL BE MADE.

Maryland: Alleghany, Carroll, Cecil and Washington counties.

Pennsylvania: Adams, Berks, Blair, Bucks, Carbon, Centre, Chester, Clearfield, Columbia, Cumberland, Dauphin, Delaware, Fayette, Franklin, Fulton, Huntingdon, Indiana, Lackawanna, Lancaster, Lebanon, Lehigh, Luzerne, Lycoming, Mifflin, Monroe, Montgomery, Montour, Northampton, Perry, Philadelphia, Schuylkill, Snyder, Union and York counties.

Virginia: Clarke, Culpeper, Frederick and Warren counties. Also the cities of Harrisonburg, Staunton, Waynesboro and Winchester.

West Virginia: Berkeley, Jefferson and Mineral counties.
Eligible projects will connect people and families with community green spaces and could include park improvements, park builds, watershed restoration, recycling infrastructure and related programs, beautification and greening, community gardens, vacant lot restoration, outdoor classrooms and tree plantings.
Eligible expenses include direct project costs, included but not limited to trees, shrubs, flower bulbs, waste disposal, tire disposal, tools for invasive removal, work gloves, safety vests, trash bags, recycling containers, printing of educational materials, signage, playground and or park infrastructure, gardening tools and equipment, etc. A maximum of 10% staff time can be included.
Non-Eligible expenses include, but are not limited to, indirect or direct overhead costs, general office supplies, scholarships, financial awards, fundraising events, conferences and seminars.