.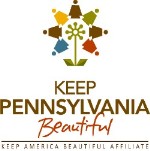 …
We will not be offering the Fresh Paint Days program in 2021, but please check back here in 2022!
Fresh Paint Days Pennsylvania is a program designed to provide community groups with paint and painting supplies enabling them to renew a community structure in need into something beautiful through the application of fresh paint and a lot of elbow grease.
"Fresh Paint Days Pennsylvania empowers community groups to take a direct role in community revitalization efforts," explains Shannon Reiter, President of Keep Pennsylvania Beautiful. "Something as simple as a fresh coat of paint on a public library or community center sends a strong message that we care about our communities."
The 2019 Grant Winners and Projects:
Veterans of Foreign Wars Post 928, Folsom, Delaware County – The VFW Post 928 and attached banquet hall that functions as the headquarters for outreach and support projects serving the local community, both veterans and civilians alike.
Sunbury's Revitalization Inc., Sunbury, Northumberland County  – The home to Custom Metal Coatings, a small, family owned local business located in a federally designated historic district.
8th Police District Advisory Council, Philadelphia, Philadelphia County – The historic, 200 year old Bethany African Methodist Episcopal Church.
Lawrence County Partners for Preservation, Pulaski, Lawrence County – Former home of the Feuchtwanger family and current home to the office of Lawrence County United Way.
Reinvision Huntingdon, Huntingdon, Huntingdon County – A downtown community structure that was built in the late 1800's and is used by local Juniata College students studying studio art and integrated media arts.
Tri-City Meals on Wheels, Greensburg, Westmoreland County – Building where approximately 200 meals are prepared daily for the elderly and disabled.
Philadelphia Mural Arts, Philadelphia, Philadelphia County – Tustin Playground Recreation Center, serving the Overbrook Community since the 1950's.
Borough of Patterson Heights, Beaver Falls, Beaver County – Municipal building that houses the Patterson Heights Volunteer Fire Department and serves as a gathering place for government activities and community functions.
Click here to see before and after photos of some of the 2019 winning projects.
Click here to see previous year's winners.