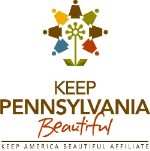 Fresh Paint Days Pennsylvania is a program designed to provide community groups with paint and painting supplies enabling them to renew a community structure in need into something beautiful through the application of fresh paint and a lot of elbow grease.  This annual event is held in partnership with support from Behr and The Home Depot.   Each year, Fresh Paint Days Pennsylvania applications are due in June, winners are announced in July and the work takes place in September.  During September, grant winners, along with their volunteers, work hard to transform their structure utilizing up to 20 gallons of exterior paints.
"Through our partnership with Behr and The Home Depot, Fresh Paint Days Pennsylvania empowers community groups to take a direct role in community revitalization efforts," explains Shannon Reiter, President of Keep Pennsylvania Beautiful. "Something as simple as a fresh coat of paint on a public library or community center sends a strong message that we care about our communities."
Click here to see previous year's winners.
The grant is available to any tax-exempt group within the Commonwealth of Pennsylvania.  Private property owners or individual applicants cannot apply,
Each application is eligible for up to 20 gallons of exterior paint provided by Behr and a Home Depot Gift Card for painting supplies. Eight awards will be given.
Only one building per application is allowed.  Applicants can submit multiple applications.
Once receiving award notification, applicant must submit the following within two weeks:
1 – Proof of liability insurance.
2 – Signed permission to paint from property owner.
3 – Paint color chosen from the Behr paint line.
The use of a volunteer waiver form is highly encouraged. Samples are available.
Applicants are required to submit at least two before photos (photos should be sent electronically in a .jpg format) of their intended project.  Photos must clearly show the relative size of the building,  condition of neglect, structure in relation to its surroundings, and more than one angle.
Applicants must adhere to a 20 gallon limit of exterior paint.  Applicants may choose their own paint colors from the Behr Premium Plus Paint line with a maximum of five different colors. Additionally, chosen colors cannot be in violation of any local ordinances or zoning laws.
Deadline to submit applications is June 28, 2019.
Projects must be completed during Fresh Paint Days Pennsylvania: September 1-30, 2019.
At the conclusion of the project, a completed final report including during and after photos, volunteer totals, donation information (if any), media coverage, community response, and a personal story of the day must be submitted by October 15, 2019.  Photos are required (photos should be sent electronically in a .jpg format).
.
For more information about the grant,  please contact: Michelle Dunn toll free at 1-877-772-3673 ext.113 or e-mail.