Resources  |  Agenda  |  Sponsors  |  Venue & Accomodations  |  Questions

2019 LITTER SUMMIT
Sharing Findings from the Pennsylvania Litter Study  |  Taking Steps Toward a Strategy for Change
Thursday, November 14, 2019  |  8 AM – 4 PM  |  Hilton Harrisburg
Hear from experts on why people litter; behavior change strategies; and what local, state and national governments, major corporations and NGOs are doing to combat the high environmental, economic and reputational costs of plastics, a leading material source of litter in Pennsylvania. 
Only by changing littering and illegal dumping behaviors will we achieve the desired economic, social and environmental outcomes that come with a clean and beautiful Pennsylvania.
Hosted by Keep Pennsylvania Beautiful  |  In Coordination with DEP and PennDOT

RESOURCES
AGENDA
8:00 AM – 8:30 AM  |  Registration and Continental Breakfast
8:30 AM – 9:00 AM  |  Welcome and Background of Litter Study
– Keep Pennsylvania Beautiful
9:00 AM – 10:00 AM  |  Visible Litter Survey and Attitude Assessment Results
– Veronica Roof, Senior Environmental Policy Specialist, Burns & McDonnell
10:00 AM – 10:45 AM  |  Litter Impacts and Costs for Pennsylvania's Environment, Roadways, and Parks Panel Discussion
– Patrick McDonnell, Secretary, DEP (Department of Environmental Protection)
– Leslie S. Richards, Secretary, PennDOT (Pennsylvania Department of Transportation)
– Mike Walsh, Deputy Secretary for Administration, DCNR (Department of Conservation & Natural Resources)
10:45 AM – 11:00 AM  |  Break with Refreshments
11:00 AM – 12:00 PM  |  Municipal Litter and Illegal Dumping Cost Study of Nine Pennsylvania Cities
Overview and Panel Discussion
– Veronica Roof, Senior Environmental Policy Specialist, Burns & McDonnell
– Participating Municipalities Panel (To Be Determined)
12:00 PM – 12:30 PM  |  Lunch Buffet
12:30 PM – 1:15 PM  |  Why People Litter and Behavior Change "5-Step Process"
– Wesley Schultz, Dean of Graduate Studies & Research, California State University
1:15 PM – 2:30 PM  |  Plastics & Recycling Panel Discussion
Global Trends in Plastics: Environmental, Economic and Reputational Costs
– Anne Johnson, Principal & Vice President of Global Corporate Sustainability, RRS
Recycling Infrastructure and Related Industries in Pennsylvania
– Robert Bylone, Executive Director, Recycling Markets Center

2:30 PM – 2:45 PM  |  Break with Refreshments
2:45 PM – 4:00 PM  |  Facilitated Discussion with Live Polling
Next Steps – Prioritizing Behavior Change Strategies for Pennsylvania
– Veronica Roof, Senior Environmental Policy Specialist, Burns & McDonnell
– Shannon Reiter, President, Keep Pennsylvania Beautiful
SPONSORS
Event
………..

Plenary
Meal / Snack
……….  
Supporters
….
VENUE
Hilton Harrisburg – 200 Market St, Harrisburg, PA 17101
Directions to Hotel – Click here for directions, GPS friendly address and a map.
Parking Fees – $10.00 Self Parking in the Garage  |  $24.00 Valet Parking
Overnight Guests – A block of rooms are available for overnight guests at a special rate of $149.00.  The cut off date for this special rate on blocked rooms is October 23.  To make reservations call 1.888.370.0980 and press 1 or visit Hilton Harrisburg Booking Link and use group code GREEN.  [Check-in time: 3:00 pm  |  Check-out time: 12:00 pm]  The hotel offers two on-site dining facilities: 1700 Degrees Steakhouse [open Wednesday evening from 5:30 pm – 10:00 pm] and the Ad Lib Craft Kitchen and Bar [open Wednesday from 6:30 am – 12:00 am].
Conference Area Map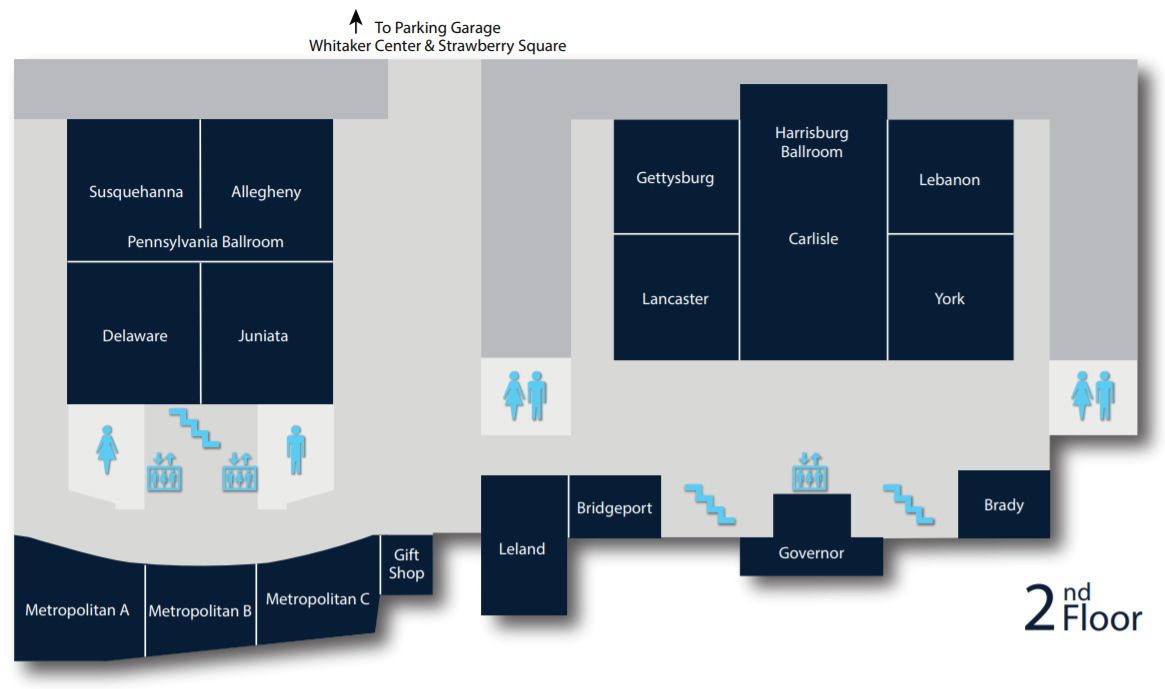 QUESTIONS
Sponsorship / Hospitality Questions / Special Dietary Needs
Please contact Barb Christner, Director of Development via email bchristner@keeppabeautiful.org or phone 724.836.4121, ext 114.
Refund / Cancellation Guidelines
Request for a refund must be submitted via email to bchristner@keeppabeautiful.org on or before midnight on October 31, 2019. A refund email will be sent within 2 business days confirming the cancellation. Any cancellations after October 31st, will not be eligible for a refund. There will be no refunds for no shows. KPB is not responsible for any added expenses incurred for event and/or registrant cancellation.