The Gold Shovel Awards are designed to acknowledge Keep Pennsylvania Beautiful Affiliates for outstanding program achievement in each of the KPB's three focus areas of Prevent It!, Clean It! and Keep It!  Additionally, in 2012,  two corporate sponsors received a Keep Pennsylvania Beautiful Gold Shovel Award.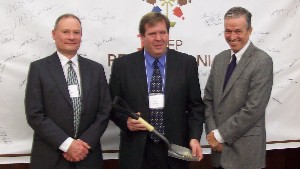 Prevent It
PA CleanWays of McKean County for Pharmaceutical Collections 

In 2008, PA CleanWays of McKean County partnered with Penn State Extension and the local conservation district to survey local medical facilities to help identify the scope of the problem of pharmaceutical flushing. One year later the affiliate launched its annual unwanted household medical collection. The initial collection was the first in the state and generated 750 pounds of prescription and over the counter medications that otherwise could have ended up contaminating our waterways and groundwater.  Since the inaugural pharmaceutical collection they have continued to hold collections for the counties residents.
Clean It
Allegheny CleanWays for Tireless Project 
The Clean It category went to Allegheny CleanWays for their Tireless Project.  This program is a collaborative endeavor of several organizations with a common interest in the waterways of Pittsburgh. The Tireless Project was launched in 2003 by the Three Rivers Rowing Association in partnership with Nat Stone, a free-lance writer and rower who was horrified by the enormous volume of tires along the city's riverbanks when he rowed through on his adventure from New York City to New Orleans. Since its beginnings, more than 2,600 volunteers have extracted 173 tons of debris, including 2170 tires and 310 bags of recyclables from the rivers' shores.
Keep It
Keep York County Beautiful for their Volunteer Cleanup Program 
The Keep It category went to the York County Solid Waste Authority (YCSWA).  The York County Solid Waste Authority is a founding member of the advisory board of Keep York County Beautiful.  To help get dumpsites cleaned and keep them clean, the YCSWA has a program that offers volunteer groups free disposal of waste for cleanups year round.  There is no maximum amount of waste a volunteer group can bring to the YCSWA.  They have also distributed thousands of KPB Open Your Eyes to Litter booklets and KPB education materials and this past year offered residents free tire disposal over a period of a month in support of Keep York County Beautiful to prevent and eliminate illegal dumping and to educate residents about proper tire disposal.  The YCSWA has announced they will do the same type of tire collection in 2013.
Corporate Partners
The Home Depot  for Community Beautification and Greening Project

The Home Depot was awarded for their partnership beautifying two VA Hospital green spaces.  Keep Pennsylvania Beautiful was awarded an $80,000 grant from The Home Depot Foundation for its Ohio Valley Region VA Hospital Community Beautification and Greening Project. In partnership with Keep Ohio Beautiful and Team Depot, Keep Pennsylvania Beautiful revitalized outdoor green spaces at two Veteran Affair Hospitals in the Ohio Valley Region including the Dayton VA Medical Center and the VA Pittsburgh Healthcare System's Pittsburgh H.J. Heinz Campus. The project directly benefited more than 1,000 veterans and their families.  Additionally, the Home Depot Foundation was a part of Fresh Paint Days Pennsylvania 2011 by providing gift cards to each Paint Days winner to purchase painting supplies
BEHR  for Fresh Pain Days Pennsylvania
Behr was awarded a Gold Shovel Award for their partnership with Keep Pennsylvania Beautiful's Fresh Paint Days Pennsylvania Program.  Designed to provide community groups with paint and painting supplies, this program enables groups to renew a community structure in need into something beautiful through the application of fresh paint and a lot of elbow grease. This year's event was held in partnership and with support from BEHR and The Home Depot. During the month of September, eight grant winners transformed their structure utilizing up to 20 gallons of exterior paints and $75.00 in painting supplies.