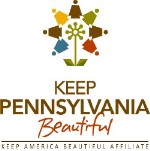 Fresh Paint Days Pennsylvania is a program designed to provide community groups with paint and painting supplies enabling them to renew a community structure in need into something beautiful through the application of fresh paint and a lot of elbow grease. This annual event is held in September with applications due in mid July. During this month-long period, grant awardees along with their volunteers will receive exterior paint and painting supplies.
Contact Michelle Dunn toll free at 1-877-772-3673 ext.113 or e-mail for more information.
---
The 2017 Grant Winners:
*Armagh Township, Milroy, Mifflin County – Armagh Memorial Field bleachers and press box
Coal Cracker Kids, Mahanoy, Schuylkill County – Mahanoy City Lumber & Supply Company
*Eldred Borough, Eldred, McKean County – Eldred Library Mural
*Faith Forward, Latrobe, Westmoreland County – Mozart Hall facade
*John F. Kennedy Center Inc., Erie, Erie County – building façade
*Johnstown Area Heritage Association, Johnstown, Cambria County – Cambria City Dept. of Public Works Garage mural
Northumberland County Council for the Arts, Shamokin, Northumberland County – Shamokin Mural and Bench Project
The Franklin Center of Beaver Inc., Aliquippa, Beaver County – building facade
* Denotes project counties where local Keep Pennsylvania Beautiful affiliates exist.
---
The 2016 Grant Winners:
The Franklin Center of Beaver County, Inc., Aliquippa, Beaver County – Business District Mural
*Coraopolis Community Development Foundation, Coraopolis, Allegheny County – Community Garden House
*United Way of Lawrence County, New Castle, Lawrence County – Cascade Park Swimming Pool Renovations
Pocono Cinema and Cultural Center, Inc., East Stroudsburg, Monroe County – Pocono Cinema
Sullivan County Agricultural Society, Forksville, Sullivan County – 4-H Building
*Summerhill Township Board of Supervisors, Wilmore, Cambria County – Summerhill Township Municipal Office and Police Department building
*Rotary Club of Colonial Park Foundation, Harrisburg, Dauphin County – Possibility Place Playground
*Downtown Lewistown, Inc., Lewistown, Mifflin County – Lewistown Junction Station
* Denotes project counties where local Keep Pennsylvania Beautiful affiliates exist.
---
The 2015 Grant Winners:
Borough of Alburtis
Borough of Coudersport
Dupont Borough
Friends Association for Care & Protection of Children
North Braddock Cares
Oil Region Alliance of Business and Tourism
Sisters of Saint Joseph Neighborhood Network
Washington & Jefferson College
---
The 2013 grant winners:
Allegheny County – Larimer Green Team for painting of building at the corner of Carver Street and Larimer  Ave.
Berks County – City of Reading for painting of Neighborhood Housing Services Community Center
Blair County – Williamsburg for painting of the home of Mary Harstrom.
Cambria County – Bottle Works Ethnic Arts Center for painting of pillars at Pillar Park
Chester  County – Downingtown Main Street for painting of building in Wallace Square
Lawrence  County – Enon Valley Community Historical Society for painting of local museum and social hall.
Northampton County – Borough of Bath for painting of volunteer fire department building and public works building.
Somerset County – Somerset Rails to Trail Association for painting of visitor center along the Rockwood Trail.
 For highlights of some of the 2013 projects, click here.
---
The 2012 Grant Winners:
---
The 2011 Grant Winners: